Anyone who regularly played Indigo Creek Golf Club over the past two decades knew their greeting in the pro shop was going to be accompanied by a smile, one that may lead to a mutual laugh.
That was not only the way affable head pro AJ Sawyer welcomed guests with his innate sense of customer service, it was simply his nature.
The Myrtle Beach golf industry, his customers and his family are mourning the loss of the genial pro and father of two teenagers this holiday season, as Andrew J. 'AJ' Sawyer died at the age of 45 last week due to an apparent heart attack.
"He was a big guy with a big laugh and a big smile. People loved him," said Craig Kenley, who hired the 6-foot-4 Sawyer for his initial job in the golf industry in 1998 as an assistant at Black Bear Golf Club. "He just understood people. Even if AJ was having a bad day or not he was always smiling. He always had a good attitude. He was a good employee, good friend and a good dude."
Sawyer became well known as a fixture at Indigo Creek, where he spent the last 22 years, most of them as the head pro.
"He was larger than life and great to be around. You never had a bad day when you were around him," said Indigo Creek managing partner Chuck Hutchinson. "When you meet somebody that makes you laugh every day that certainly helps going to work every day and makes things better."
'When you meet somebody that makes you laugh every day that certainly helps going to work every day and makes things better.'

Indigo Creek managing partner Chuck Hutchinson
A celebration of Sawyer's life is open to the public and will be held from 4:30-6 p.m. Thursday at the Indigo Creek clubhouse.
Condolences online from Indigo Creek members, residents, snowbirds and other acquaintances expressed appreciation for the person Sawyer was.
Making Myrtle Beach home
Sawyer was a native of Rutland, Vermont who grew up in Lancaster, Pennsylvania.
He was both a skilled hockey player and skateboarder in his adolescent and teenage years.
He played for a traveling junior hockey team and retold the story of scoring a goal against longtime NHL goaltender Ron Hextall. He was eventually slowed in the sport by knee issues and growth spurts, Kenley said.
Sawyer was also a music buff who loved jam bands, particularly Phish, and regularly traveled to large concerts.
"AJ loved live music. He lived for the band Phish and just traveled and would go to live concerts anywhere, anytime," Kenley said. "AJ was an encyclopedia of any genre. He loved live music more than any person I've ever known. His downtime was always spent going to a concert somewhere. Those were his vacations."

He came to the Grand Strand at the age of 19 to attend the Golf Academy of America in Myrtle Beach, and was hired shortly after his graduation at Black Bear by Kenley, who was the course's head pro.
They both moved to Indigo Creek in 2000, and Sawyer became the face of the Murrells Inlet club after Kenley left in the early 2000s. Sawyer also assisted at Azalea Sands Golf Club in North Myrtle Beach for a short time while retaining his Indigo duties.
The Indigo families
Indigo Creek became a family business between both the Hutchinsons and Sawyers.
Sawyer's parents, Lynn and Buzz Sawyer, both worked at Indigo Creek over much of their son's tenure. Lynn has been a longtime food and beverage employee, and Buzz has helped in multiple areas when needed.
The two families shared a lot over the years.
"It was truly a family business. It really was," Hutchinson said. "We had his kids down there working, We had his wife Kristin down there working, Buzz and Lynn working down there. Of course me and my family are down there all the time, and my oldest son, Chap, works for me. He's on maintenance. It's truly a family deal, and now a big part of the family is gone."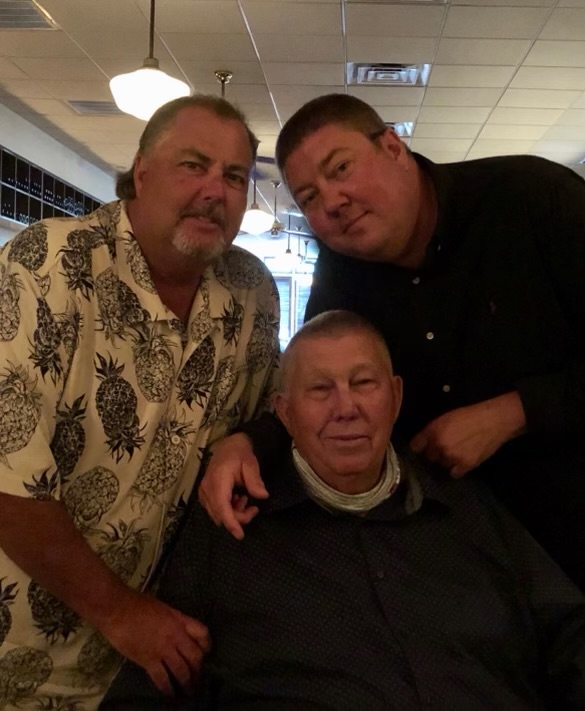 Hutchinson expects Buzz and Lynn Sawyer to continue working at the club to "help Indigo Creek keep going in the same direction it's going," he said.
Sawyer had become a minority partner of Indigo Creek.
"We both worked side-by-side and made pretty much every decision together," Hutchinson said. "Everything went through him, every decision I made. He'll be sorely missed by everyone, the homeowners, the members, other PGA guys."
Sawyer had a strong bond with many area PGA pros, and was one of several who participated in the 100-hole golf marathon to raise money for the Folds of Honor veterans charity each Labor Day. But his deepest bond was with Hutchinson.
Hutchinson's wife, Eileen, recently had a major back surgery at MUSC in Charleston, and Hutchinson said Sawyer told him, " 'Don't worry Chuck, our family has always got the Hutchinsons back and we know the Hutchinsons always have our back,' " Hutchinson said. "I've never had to worry about anything, I've been blessed with him and Craig both. Between him and AJ I've always worked with one of those two."
Hutchinson counts about 50 trips that he and Sawyer went on together, including the PGA Show in Florida every January to earn points toward retaining their PGA of America status.
"He's been my right-hand guy the whole time, and he's not replaceable," Hutchinson said.
Sawyer is survived by, among others, his wife, daughter Jules and son Ty, who attend Carolina Forest area schools, and parents.