The influence that one family and one company has had on the proliferation of the Myrtle Beach golf market is reflected in the two newest incoming members of the Myrtle Beach Golf Hall of Fame.
Former Myrtle Beach National Company CEO Matthew Brittain, and former longtime company executive Jim Woodring will be inducted on Sept. 5 in a ceremony at Pine Lakes Country Club, where the Hall of Fame Garden resides. The ceremony was originally scheduled for Aug. 30 but was postponed by the threat of Hurricane Idalia.
Brittain is the son of Clay Brittain Jr., one of six founding Hall of Fame members and the patriarch of the family behind Myrtle Beach National Co. and Brittain Resorts & Hotels.
Matthew Brittain continued his father's legacy with leadership of both the hotel and golf course businesses, and Woodring helped Myrtle Beach National Co. prosper through visionary and innovative digital strategies combined with a relationship-forging personality.
Myrtle Beach National owned 10 Grand Strand courses – many of which it built – and managed a total of 14 by the time it merged with Burroughs & Chapin Company's golf division in 2012 to form National Golf Management, which had nearly all of its assets purchased in 2015 by Founders Group International.
Woodring and Brittain will become the 33rd and 34th members of the hall, which was created in 2009.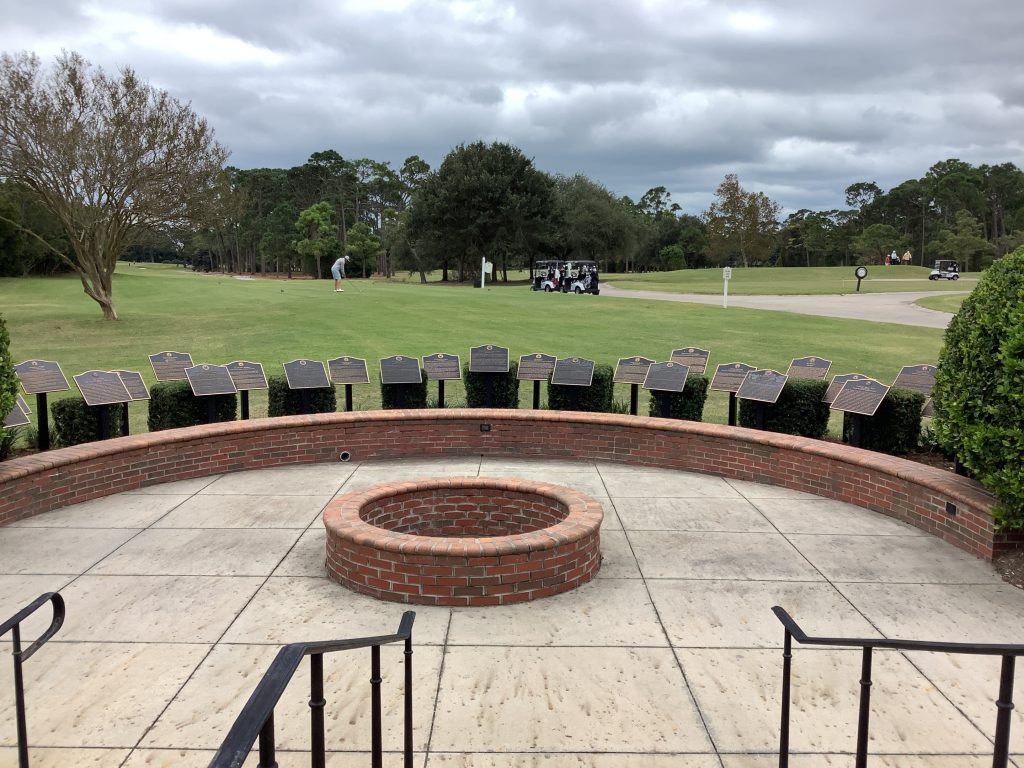 Matthew Brittain
Clay Brittain, who died in 2016, was the patriarch of the Brittain family and helped create the marketing cooperative Myrtle Beach Golf Holiday in the 1960s along with fellow founding HOF member Cecil Brandon and others.
Brittain is humbled to be joining those Myrtle Beach golf pioneers in the hall.
"It is an honor. When they reach me, given Cecil and some of the stalwarts, they're reaching to the next level for sure," Brittain said. "The tone that was set by some of the earlier leaders that have been given the [HOF] award is what deserves recognition – the cooperation and competing businesses working together towards an end was superbly demonstrated by Golf Holiday and what it accomplished."
Brittain served as the CEO of Myrtle Beach National and is president of Brittain Resorts & Hotels, which manages more than a dozen resorts encompassing more than 4,000 rooms, suites, condominium units and villas, as well as more than 35 restaurants, tiki bars and coffee shops. It has more than 2,500 employees.
Brittain's lodging properties have all been involved in the golf package business for decades.
"It was a very helpful market segment to Myrtle Beach," Brittain said. "With it being in the spring and the fall as opposed to the summer it extended our season tremendously. So there was a lot of incentive to do that."
Brittain helped his father run the historic Chesterfield Inn in his adolescence, then received a bachelor's degree from North Carolina and a master's degree from South Carolina.
Following college, his hotel management career took him to Europe and Washington DC. before he returned to the Myrtle Beach area in 1985 with his wife Marie-Claire to become the GM of his family's Sea Island Inn.

Brittain has served the local community on the boards of the Grand Strand Tee Time Network, Myrtle Beach Golf Holiday, the Myrtle Beach Area Golf Course Owners Association, The Boys & Girls Club, and The Long Bay Symphony, and as a Brookgreen Gardens trustee.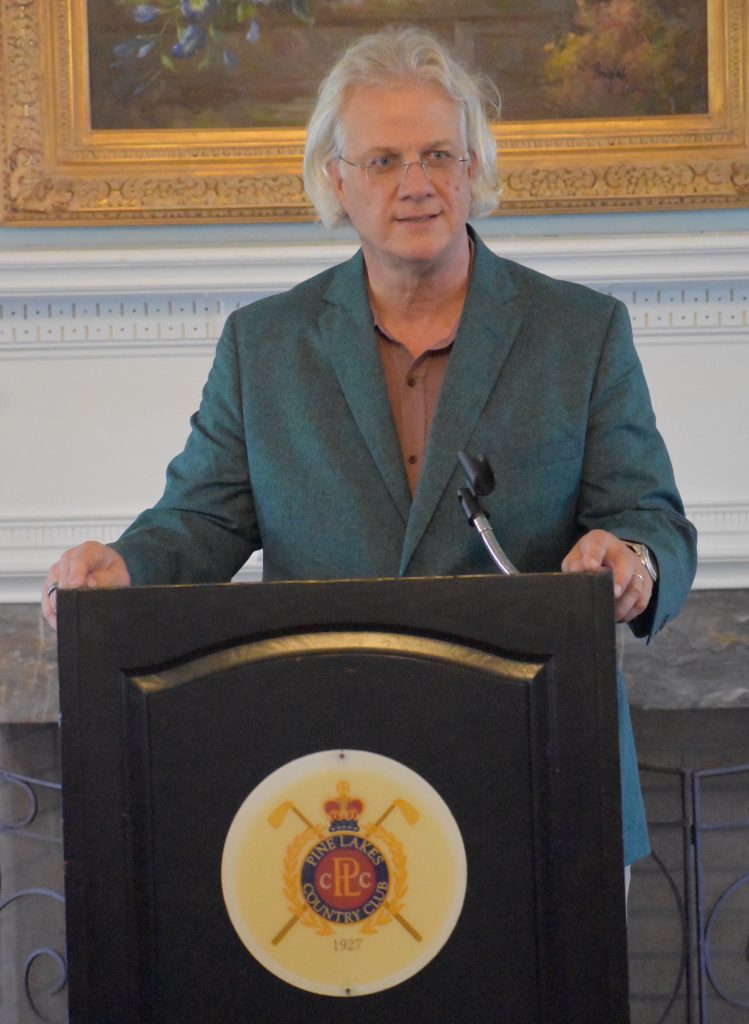 Jim Woodring
Woodring combines business acumen with a genial personality that endeared him to people in the golf industry.
"He was affable and good-natured and always had a positive spin on things, and secondly he was competitive, and that never hurts in a business," Matthew Brittain said of his former coworker, who retired in 2015.
Woodring is considered an internet marketing pioneer for Myrtle Beach National and the market in general, which helped Myrtle Beach remain competitive in a golf booking and package realm that has become largely digital.
He developed new and innovative golf packages, and new ways to attract golfers to the area.
"He was a visionary and understood the importance of the internet for the golf industry," Brittain said. "He knew that the internet and online booking phenomenon would be important, and got us to invest in things like URLs – such as MBN.com and MyrtleBeachGolf.com – some of those early URLs that were important at that time.
"He bought those, then implemented them into a tee time structure that didn't just sell our courses but sold all courses. He understood the importance of that to the end user."
"He was a visionary and understood the importance of the internet for the golf industry."

Matthew Brittain on Jim Woodring
After earning a degree at Kent State, Woodring spent 20 years in the retail industry before moving to the Strand in 1993 with his wife Kathy and becoming vice president of marketing and golf operations for Myrtle Beach National. He also became a shareholder in Grand Strand Golf & Travel, one of the area's leading golf package providers.
Following the creation of National Golf Management, Woodring became the company's executive vice president responsible for strategic planning and all marketing.
Woodring's positions and personality allowed him to be a bridge between courses, package providers and hotels.
"Although he was on the golf side, he understood the importance of the hotel component and continually reached out to the hotels to try to give them what they needed to market the golf better," Brittain said. "I think he understood that connection as well as anyone and added his finesse in the internet marketing arena as it was getting started."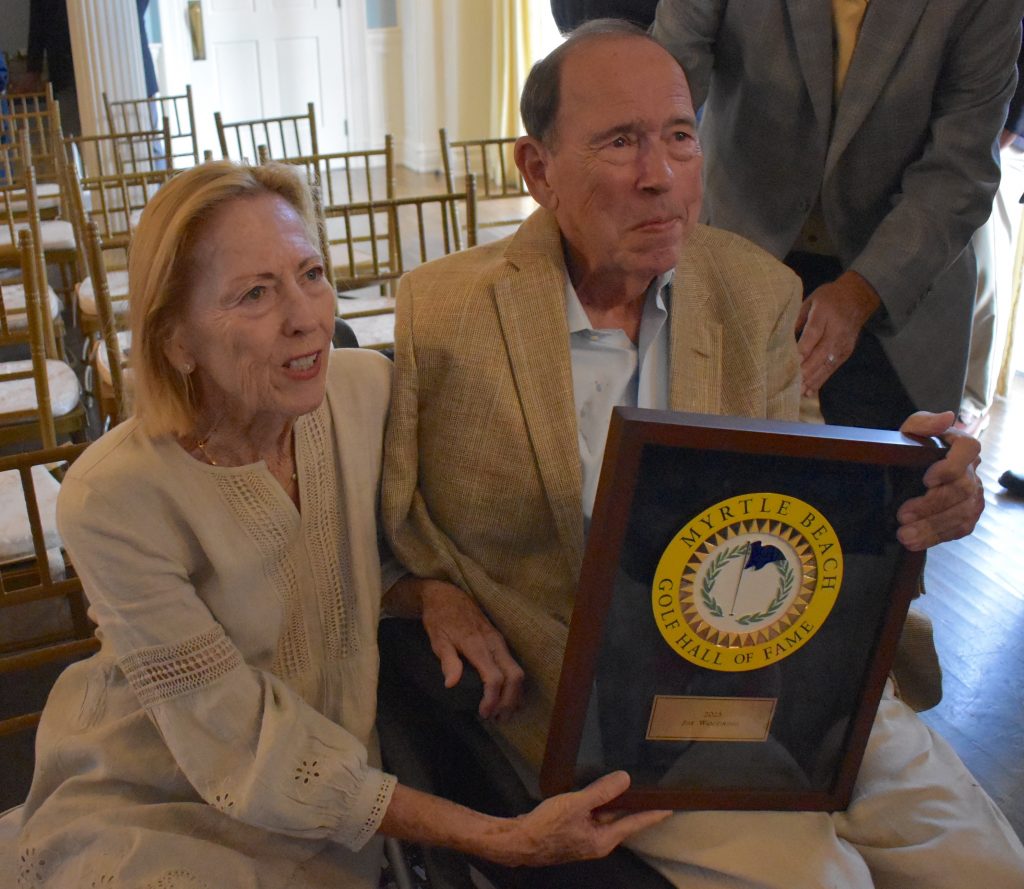 Hall of Fame history
The Hall of Fame's existing 32 members include charter inductees Clay Brittain Jr., Brandon, Carolyn Cassidy Cudone, Jimmy D'Angelo, General James Hackler Jr. and Robert White.
The others are George 'Buster' Bryan, Charlie Byers, Paul Himmelsbach, Jack Himmelsbach, Gary Schaal, J. Egerton Burroughs, J.Bryan Floyd, Edward Jerdon, Casper Leon Benton, George Hilliard, Critt Gore, Russell 'Doc' Burgess, Sandy Miles, Phillip Goings, Edward Burroughs, Kelly Tilghman, Vernon Brake, Bob LeComte, Ed Bullock, Larry Leagans, Dustin Johnson, the four members of Hootie & the Blowfish collectively, Mickey McCamish, Larry Young, Doc Lachicotte and Gene Weldon.