The onset of Covid-19 and the resulting restrictions on many activities led to a national spike in interest in golf, which was never banned by either governor in the Carolinas.
As more time passes since the peak of the coronavirus pandemic, it's looking more and more like the resurgence is sustainable and not just a short-term anomaly, particularly in the Myrtle Beach market.
Rounds played during the all-important spring golf season consisting of the months of March, April and May increased for the third consecutive year in 2023 on the 64 public courses that are members of the Golf Tourism Solutions marketing and technology agency that promotes the Myrtle Beach market.
A few area courses are not members of GTS, and their rounds are not included.
Rounds increased 3.2% in the three months this year compared to 2022 after increasing 11.6% last year vs. 2021, according to GTS and Myrtle Beach Area Golf Course Owners Association statistics based on rounds booked on the market's tee time network.
Rounds are also up 8 percent for the year through May compared to 2022, buoyed by a massive 63 percent increase in January, a month that enjoyed exceptional weather compared to January 2022 to bump its total rounds up to 146,700 and become a more significant month for the industry.
The average rounds per course over the first five months breaks down to nearly 20,000.
Revenue has increased 13 percent in the first five months of the year compared to 2022, from $58 million to $65.5 million, according to GTS statistics.
"This year for the first five months is as strong a golf season as Myrtle Beach has ever had," said Tracy Conner, executive director of the MBAGCOA and GTS' director of technology services. "We've played more rounds back in the 1990s because we had more courses, but per course it's as strong as it's ever been. It's fantastic."
Breaking down the numbers
Rounds were up 3% in February compared to 2022, 9% in March and 2% in May while dropping 1% in April, when it rained heavily on multiple weekends.
The Grand Strand market is coming off a couple years of overall increases, as rounds played for the entire calendar year increased 8% in 2022 compared to 2021, and 20% in 2022 compared to 2019, according to MBAGCOA and GTS statistics. The coronavirus-impacted year of 2020 isn't comparable.
Revenue from green and cart fees increased 13 percent and 31 percent in 2022 over those same years as the market has increased rates and benefitted from flex pricing to take advantage of peak times.
An uptick in 2017 was the first increase in rounds played in the market in 13 years, as golf participation waned nationally for more than a decade.

But an increase in 2019 followed a poor weather year in 2018, and golf has been picking up steam ever since.
It's the fourth increase in rounds played in the market during the spring season in the past five years, with the exception being 2020.
According to the MBAGCOA, there were 796,329 rounds played March-May in 2019, and the number for those three months increased each year beginning in 2021, culminating in 924,110 rounds being played this year on the 64 GTS member courses for an increase of more than 16 percent over 2019.
The increases year over the previous year in the spring were 1% in 2021 compared to 2019,, 11.6% in 2022 and 3.2% in 2023.
Comparing the first five months of the year, rounds are up 25% in 2023 compared to 2021 with 1.278 million rounds played, including a rise of 16 percent in 2022 compared to 2021.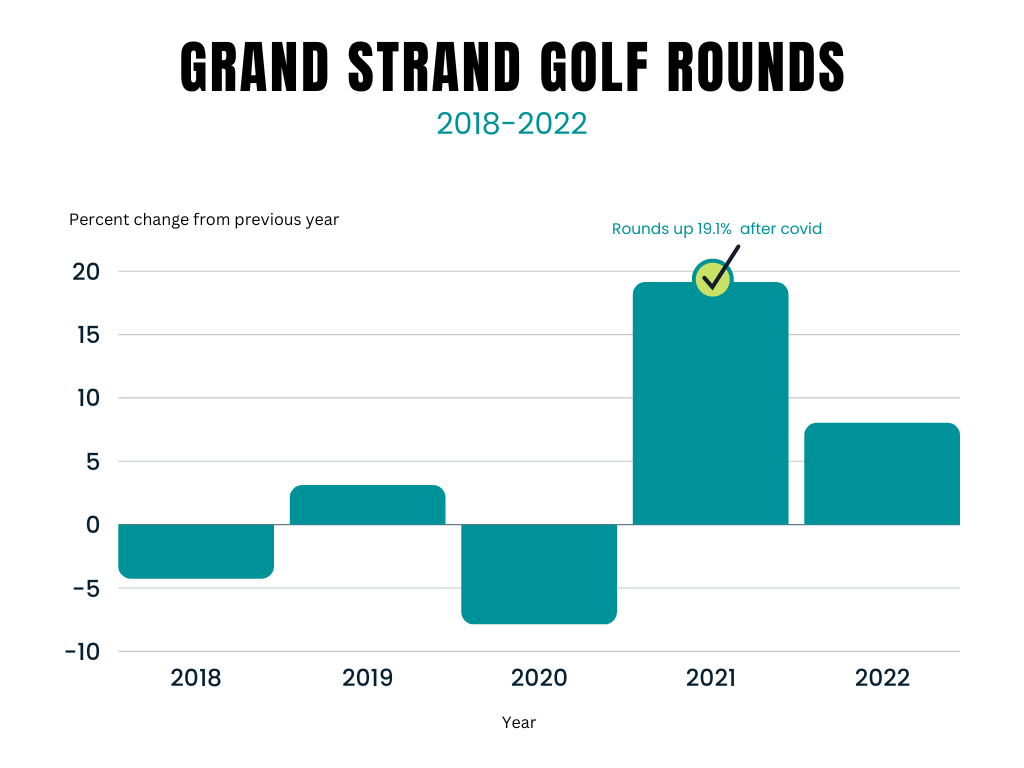 The factors and future
Future bookings show the early-season uptick is likely to continue.
Conner said there are 15% more rounds on the books for the next 12 months than there were at this time last year, with 487,400 as of June 1.
Package rounds – which combine lodging and tee times and are generally booked well in advance – are up 13% for the next 12 months and projected revenue from package rounds is up 21%.
"2021 was a recovery year, overall it was very good," Conner said. "2022 was possibly overall the best year Myrtle Beach has ever had per course, and this year we're doing even better than 2022."
More reason for optimism in the market is research that shows the age of vacationing golfers in Myrtle Beach is trending younger, which is reflected in GTS' social media platforms growing significantly, so they will potentially be customers for a longer period moving forward.
"All indications are the next several months are going to be strong, so the golf business is healthy in Myrtle Beach, and it is across the country," Conner said. "Many people have caught the golf bug and they enjoy the game."
Conner believes the continued marketing of Grand Strand golf by both GTS and the Myrtle Beach Area Chamber of Commerce has contributed to the market thriving.
"Coming out of Covid I think we've spent our money wisely, and we have money to spend," Conner said. "Where other markets pulled back during Covid as well as coming out of Covid, we didn't and I think we're benefiting from that."