SUNSET BEACH, NC | Leopard's Chase Golf Links will close Wednesday for renovations that will include a transition of its greens from L93 bentgrass to TifEagle ultradwarf Bermudagrass.
The course is expected to reopen in early September, though weather conditions could impact the reopening date.
The Tim Cate design is one of the four "Big Cats" courses at Ocean Ridge Plantation in Sunset Beach, N.C., and is one of just five remaining courses on the Grand Strand that feature bentgrass, which was once a prevalent and preferred putting surface in the market.
But it's a cool-weather grass that tends to become stressed in the summer heat. The course opened in 2007 with its L93 bent greens.
Only the Founders Club at Pawleys Island, which opened early in 2008 as the rebuilt Sea Gull Golf Club, has opened more recently than Leopard's Chase on the Strand.
But Ocean Ridge's management believe's the greens are ready for a transition after 16 years, and they are already brown after being sprayed to begin the process.
"This type of grass struggles in the summer and typically isn't fully recovered until late in the fall golf season," Ocean Ridge director of marketing Bill Long said in an email. "Therefore we opted to convert these putting surfaces to a hybrid Bermuda that mimics the playing condition of bentgrass, but actually thrives in the warmer seasons."
Long said TifEagle sprigs will be planted by mid-July. With Bermuda greens, courses have the option of overseeding with poa trivialis for cooler months or playing through the winter and early spring on dormant Bermuda.
The 7,155-yard Leopard's Chase has been ranked among the top 12 public courses in North Carolina by Golfweek Magazine as recently as 2020 and was in the magazine's top 10 in 2018, and has been ranked among the top 10 public courses in N.C. by Golf Magazine as recently as 2016.
It has multiple waterfalls to the side of the 18th green, huge coquina boulders throughout the property lining water hazards and hills, elevation changes, rolling terrain, undulating greens that can fall off in multiple directions, and dramatic bunkering.
Cate's other courses of note in the area include Tiger's Eye at Ocean Ridge and Cape Fear National.

The enhancements
Long said other improvements will be made at Leopard's Chase this summer including the continuation of a bunker renourishment program that began this spring, with new sand and repairs to drainage; enhancement of decorative beds; and growing in of perimeter areas on the course.
In addition, the exterior of the clubhouse and cart barn will be painted and the interior of the clubhouse will undergo an extensive cleaning.
The renovations are being overseen by Leopard's Chase superintendent David Pridgen, who spent two decades as the superintendent at Meadowlands Golf Club and several years at Glen Dornoch Waterway Golf Links.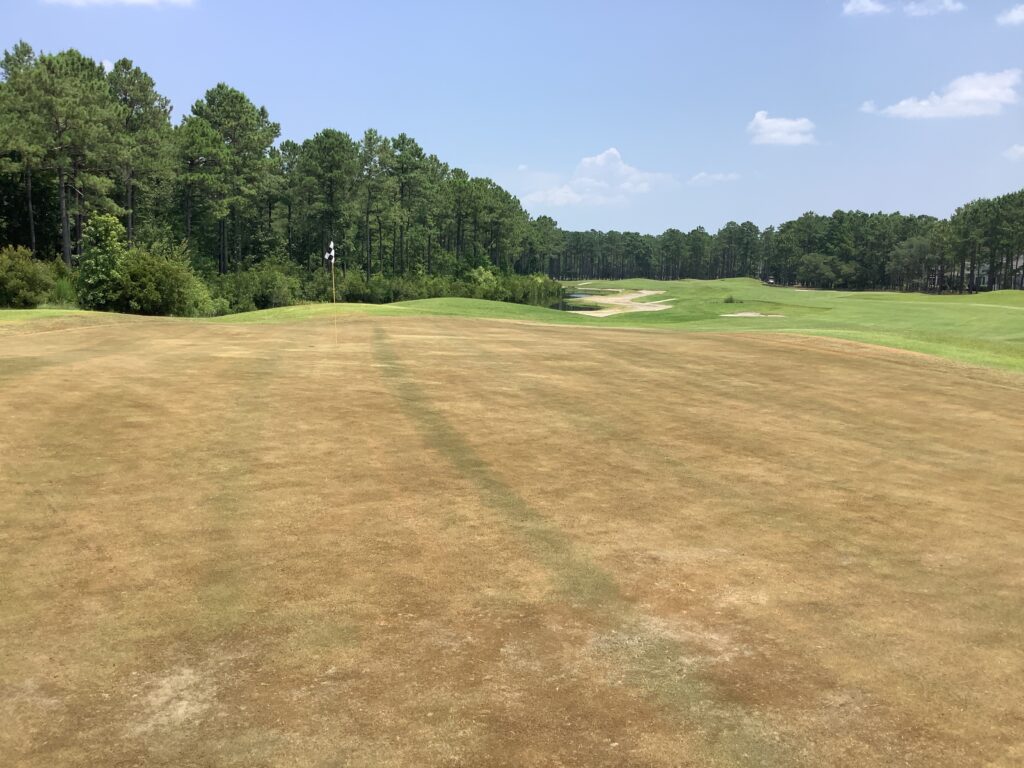 Long said a greens improvement program throughout Ocean Ridge this summer will benefit conditions at the other three Big Cats courses, which have had challenges over the past couple years.
An extensive plan created by Ocean Ridge director of agronomy Jim Brown includes sodding along with aggressive fertilization and other applications and procedures to improve the health of greens so they can "endure any less than desirable weather conditions we might experience in the future," Long said.
All four Ocean Ridge courses once had bentgrass greens but all have transitioned to Bermuda since 2010.
Lion's Paw has MiniVerde Bermuda greens that were renovated in 2018, while TifEagle was installed on Tiger's Eye in 2017 and Panther's Run in 2018, Long said.
"So all of our greens are relatively new and still maturing," Long said. "We feel the current enhancement program will ensure all of these putting surfaces will be in very good condition year-round for all of our guests to enjoy."
The market will be left with just four courses with bentgrass greens: Crow Creek Golf Club, The Wizard Golf Links, Man O'War Golf Club, and the Sea Trail Golf Resort Maples Course.