Brady Duval has angst when he plays golf against one particular player.
It happens to be his father.
He recounts beating him all of twice, including one breakthrough round last week.
Even when he shoots 3- or 4-under on the front nine and has a lead of a few strokes, his father usually finds a way to edge him at the end.
"I won't play as good on the back . . . and we're all square through 13 or 14 holes and he'll just birdie the rest, and I'm just like, 'Alright, whatever,' " Brady Duval said. "He's in my head so bad. If he says one thing to me when we're close, it's over."
His struggles against his dad are understandable, considering David Duval is a former No. 1 golfer in the world.
Brady Duval hasn't had nearly the same trouble beating other golfers, with significant wins and a number of other high finishes in noteworthy junior events over the past year.
He'll be looking to add to his accumulating accolades in Conway beginning this fall, as the recent high school graduate has signed to play at Coastal Carolina University for head coach Jacob Wilner.
"This was actually very last minute. The coach called me and I liked what I heard. He was talking about rebuilding the program with me and two other freshmen," Duval said. "I couldn't have been happier and more excited to go out and visit. As soon as I got there I knew it was the place for me.
"I love Myrtle Beach. I love the weather in South Carolina. I love the campus. I like the team, I like the coaches, and after one day and without even seeing the golf courses I knew it was a perfect fit for me. Then once I saw a couple of the golf courses and the facilities and what they're going to do to the facilities, it was final."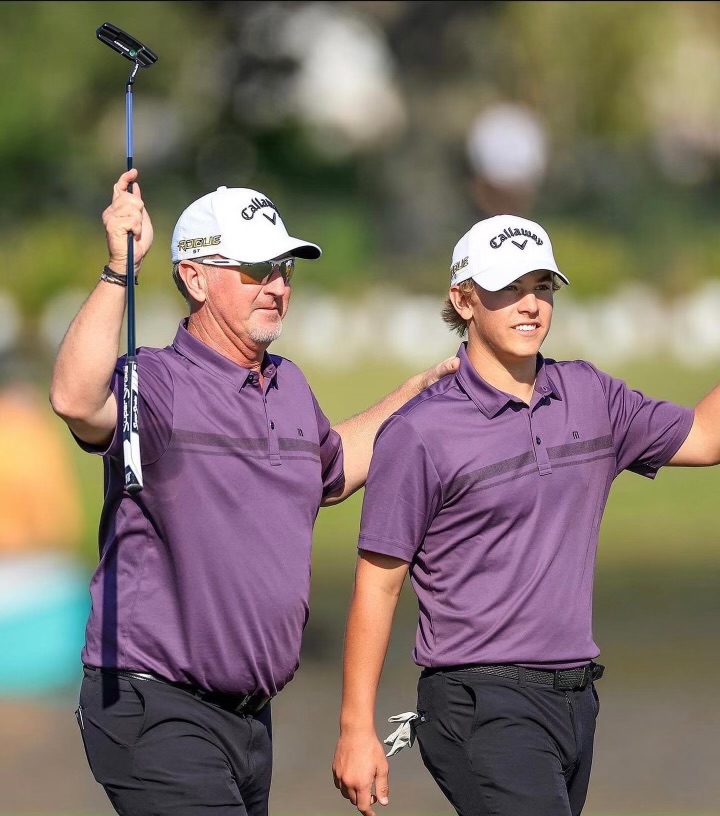 Growing up Brady Duval
David Duval was No. 1 in the Official World Golf Ranking for 15 weeks in 1999 in the midst of what was otherwise Tiger Woods' dominance. He won 11 times on the PGA Tour in 19 months from 1997-99, including The Players Championship and Tour Championship, famously shot a 59 in the final round of a tour event to win, and added a British Open title in 2001 for his 13th and last PGA Tour win.
"I always thought of him as just my dad. I didn't really think of him any different other than my dad," Duval said.
But you can't escape being the son of David Duval in the realm of golf. It's a fact, and it comes with inherent expectations.
"There were always very high expectations for me and a lot of pressure because I always felt like I had to keep up with him and how he plays," Duval said. "It really wasn't the best for me because it's still in my head. There's still pressure on me, I feel like. It's all in my own head. He actually was very hands-off with my golf. I think he knew what it was like, that it was different for me, and he didn't want to push it on me."
Duval has somewhat recently realized there is also a lot to gain from being David Duval's son. They recently played a round in which Brady hit shots under his father's direction throughout the round to see what he would shoot.
"Ever since I grew up and matured I started asking [him] a lot more questions about the game," Duval said. ". . . He would help me around the course but it was a little hard for me growing up listening to my dad, which was pretty stupid of me not to do."
Duval said the early advice that he took to heart from his father was the swing tips of swinging in to in, and releasing his hands without turning them over.
Duval is coming to Coastal Carolina from the International Junior Golf Academy in Florida, where his instructor has been Hugh Royer III, a former PGA Tour member who lived and taught in the Myrtle Beach area for 15 years through March 2022.
"I like everything about the kid," Royer said. "He's still got a little bit of maturing to do, but most 17-year-olds are going to need that. Physically, talent-wise it's as good as anybody. He hits it forever. I mean he's long. He putts it really good. It has a lot to do with his mentality and how he is.
"He's that competitive and he does not want to fail, that's the thing I like about him the most."
Duval was born and raised in Denver, and moved to Florida with his family for less than a year at the age of 13 before they returned to Denver.
He began attending the IJGA for golf instruction, and the affiliated Montverde Academy for academics, at the suggestion of John Daly's son "Little" John Daly II during a discussion at the PNC Father/Son Challenge. Daly was already attending the boarding schools.
Duval attended for two months in the spring of 2021 before committing to it full-time. Between the short summers in Denver and conflict with some of his high school golf teammates, Duval believed it was what he needed.
"It was only about golf," Duval said of attending the IJGA outside Orlando in Howey-In-The-Hills. "I wasn't working too hard in Colorado for my ninth- and 10th-grade years. I just kind of didn't care about anything, I wasn't working toward anything. I wanted to make a change in my life again. I grew up loving golf and I practiced seven hours a day every summer. Then I got pushed away from it with a couple things.
". . . I found my love for the game, worked really hard again and got my game back."
A senior surge
Duval's instructor in Colorado, Shane LeBaron, is the primary coach for both him and his father, 51, who is playing on the Champions Tour.
Duval said that about three years ago, LeBaron approached him with a tip on a driving range. "He told me something and it was exactly what I've been working on my whole life, and he kind of helped me from there," Duval said. "Then my dad and him got introduced and my dad loved his coaching skills and we've been working with him ever since."
LeBaron and Royer are in regular contact about managing his swing, and Royer has also worked extensively with Duval on his short game.
Duval has vastly improved over the past 12 months or so, which coincides with the time he has been working with Royer.
Duval estimates he has been over par in just one tournament in his past dozen or so events over the past seven months, and he has shot a number of rounds of 65 or less.

Perhaps his most impressive win thus far is the Amundi Evian Senior Showcase in Las Vegas last December – his first American Junior Golf Association tournament – with an 11-under 67-66–133 that included three eagles and eight birdies.
Royer said Duval credited him for the win based on his teachings of scaling back his effort in the golf swing. "That kind of started everything and he started winning a bunch and getting beat in playoffs and things started rolling," Royer said.
Duval has also won Junior Golf Scoreboard and World Amateur Golf Ranking tournaments, and finished second in a playoff in another WAGR event.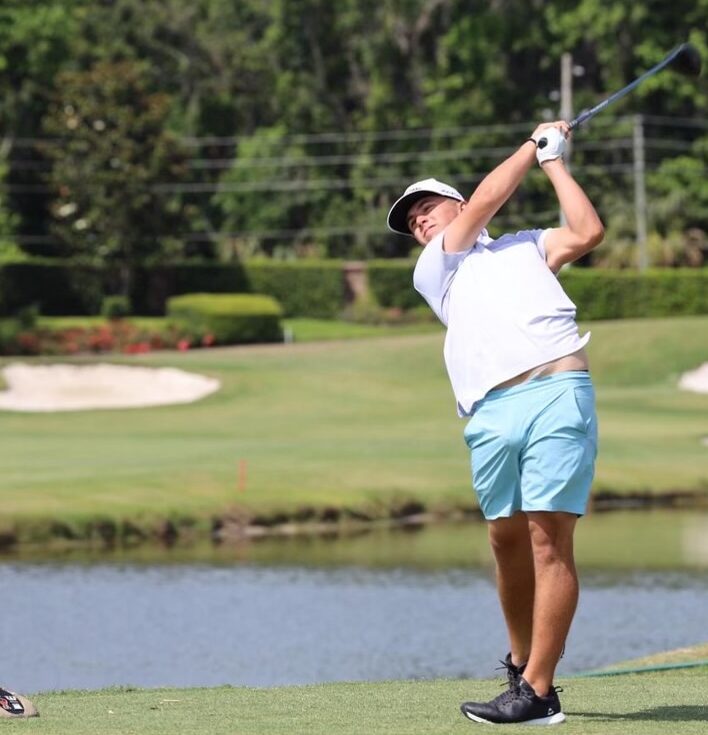 Royer knows David Duval from his time as a touring pro. He won four times on what is now the Korn Ferry Tour and was a full-time member of the PGA Tour for three years from 1996-98.
"I met Brady and told him to 'tell your daddy Hugh said hello,' and the next thing you know I got a phone call and David was like, 'I'm glad you're there, I've got somebody to look after my kid,' " said Royer, whose teaching locations on the Grand Strand included Long Bay Club and Tidewater Golf Club. "So it became that I was going to be the one who taught him.
"Brady and I, we just hit it off from Day 1. We're the same kind of personalities and we had our arguments and whatever else but we always got along and made things work. We did some good stuff and got him playing some good golf, that was the fun part."
Royer said Duval is eager to work on perfecting his game. "He's not scared to work," he said. "This kid is out hitting balls and practicing all the time. If it's not good, he's going to sit there until it gets good. That kind of reminds me of me from a long time ago."
Royer will assist in the coaching of Duval via video when needed, or travel back to Myrtle Beach if needed. "It's whatever works for him and whatever he needs, that's the way I look at it," Royer said.
Finding Coastal Carolina
Duval was unsure of his college choice well into his senior year. So Royer contacted CCU assistant Yoshio Yamamoto, a former assistant pro in the area, leading to a Wilner call to Duval, who quickly made a visit to Conway.
He also took visits to San Diego State, where he thought there would be too many distractions, New Mexico and North Alabama, and he turned down other invitations to colder areas.
He was scheduled to take a visit to UNLV a couple days after his CCU trip but he canceled it on his final day in Conway.
"I didn't even need to go see another school," said Duval, who saw and/or played The Dunes Golf and Beach Club, Grande Dunes Resort Course and Hackler Course at CCU during his trip.
Royer offered his support for Duval's decision. "The beauty of it is I lived in that town for 15 years, so I told him there are a lot of people I know who can help him," Royer said.
Wilner, a CCU alum who was hired at his alma mater in May 2022 after 13 years as head coach of Nevada, became more convinced Duval was a good fit for his program after his campus visit and interaction with his current players.
"It was very apparent he was a good match for what we're doing here," Wilner said. ". . . What really impresses me is he's confident and he has a lot of speed. One of the more important things Yosh and I are trying to do for our recruiting class is we want guys that just have speed. It's so important in this day and age to be able to move the ball. And Brady definitely has speed and he has really good technique, and he's got a little bit of a chip on his shoulder too, which is really cool.
"I don't know what it's like to be the son of the former No. 1 player in the world, but I think the chip on his shoulder is more so that I think he's always had belief but it took him awhile to get really good where he was getting good looks from good [college] programs."
Royer believes Duval can become one of the best players ever at CCU.
"There aren't too many weaknesses in there," Royer said. "I don't even think he realizes what's ahead of him and how good he can be. He's just starting to get a taste of it. If there's a kid I've seen that young that has an opportunity to play the [PGA] Tour, and has the attitude, it's him. He's got that attitude to him that 'you're not going to beat me.' "
Unless his opponent is a former world No. 1 in the family.
Royer's cancer battle is ongoing
Royer has had eight surgeries over the past five years, including three that were seven hours or longer, and 30 rounds of radiation in his battle against basal cell carcinoma that came very close to reaching his brain.
The last surgery was last July to remove the right parotid glands – salivary glands that sit on the side of the face below the ears – because they contained cancer cells.
They took more of his right cheek during the surgery so his jaw on that side is close to bone-on-bone.
"I feel fine. I still play golf with the kids and go goof off and whatever else. I don't feel bad at all," said Royer, who has had several reconstructive surgeries. "It's hard to look in the mirror, but knowing that I'm okay, everything's good."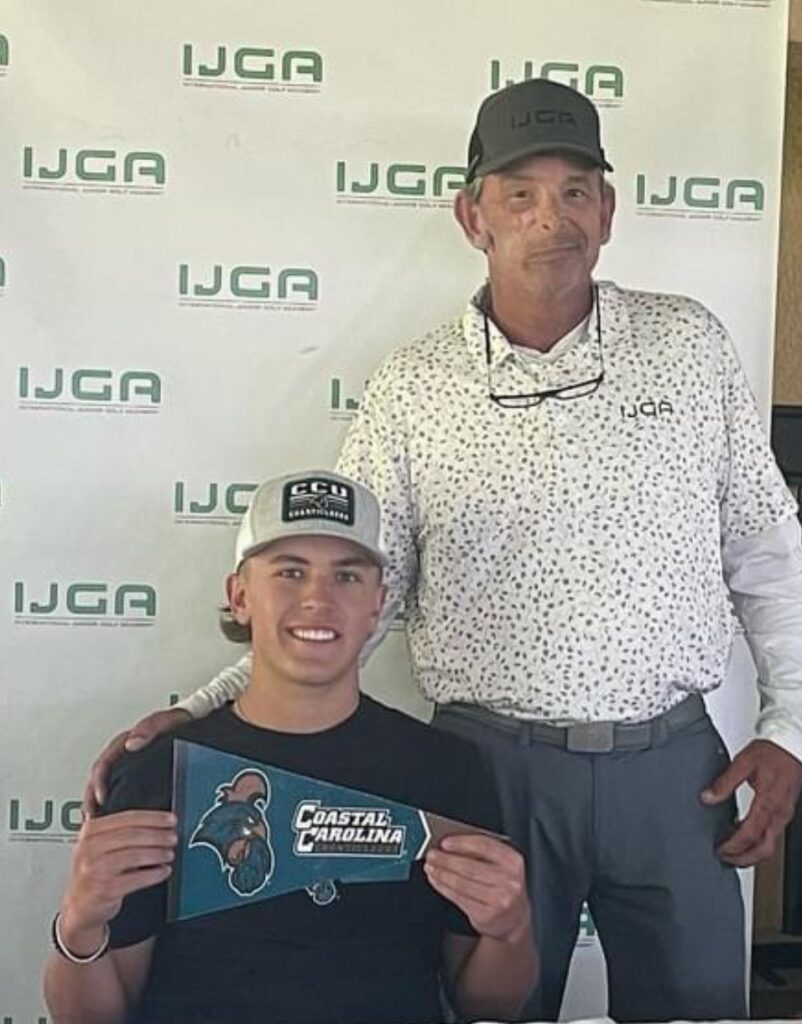 He now receives treatment every three months at the Dana-Farber Cancer Institute in Boston after a few years of care at MUSC in Charleston. Royer instructs a teenager at the IJGA whose father is a director of oncology and dermatology at Dana-Farber, and he made Royer a patient.
"The technology they have up there is so far advanced from anything in Charleston," Royer said.
He's been receiving immunotherapy since last August and his doctor has told him he may be able to end the therapy this upcoming August if his condition continues to progress.
The immunotherapy through an IV bolsters Royer's immune system to help his body fight the cancer. And unlike chemotherapy and radiation, Royer said there are no side effects.
"There is still cancer in the side of my face, but with the immunotherapy it is shrinking and it is staying the same," Royer said. "They said as long as it's shrinking and staying the same it's like living with diabetes. You maintain it and keep working on it.
". . . Having doctors you can trust is a big thing, and that's what [wife] Heather and I are thankful for."