HILTON HEAD ISLAND | The RBC Heritage and its idyllic Lowcountry seaside setting have long been a competitive wind down and decompression for the world's best golfers from the pressure cooker that is the Masters Tournament the previous week.
Moss-draped oaks, Calibogue Sound, the candy-striped Harbour Town Lighthouse and marina, backyard cookout parties along a tight tree-lined Pete Dye design, and nature-related activities for players and their families in Sea Pines Resort have all contributed to a comfortable, cozy golf tournament.
It has traditionally attracted a handful of the world's top-ranked players who are loyal to the event for its offerings. Many make it an annual family work vacation.
The backdrop and scenery haven't changed for the 55th playing of the PGA Tour event at Harbour Town Golf Links in Hilton Head Island, but the relaxed, carefree atmosphere has been supplanted by a boatload of money that has attracted the tour's best.
The Heritage is one of seven regular PGA stops that have been elevated this year by the tour with $20 million purses – it was slated to be $8.3 million this year – in response to the creation of the LIV Golf series and its exorbitant payouts and bonuses.
This week, 17 of the top 20 players in the Official World Golf Ranking are in the major-worthy field. The three who are missing are Rory McIlroy, who committed but withdrew, Cameron Smith, who is not eligible as a member of LIV Golf, and Will Zalatoris, who is injured.
Some are playing Harbour Town for the first time this week.
"It's definitely not as laid back as normal," said Kevin Kisner of Aiken, who has a runner-up to Jim Furyk in a playoff in the 2015 Heritage among his 11 starts. "There's a lot more people out on Tuesday and Wednesday, and it's funny to see guys that we don't normally see in the field out on the range and the putting green and stuff like that. But it's still a great tournament, still a great golf course, and I'm excited for the area."
The tenor of the tournament may have changed for the foreseeable future, as the Heritage hopes to retain its elevated status, and apparently has a good chance to do so.
"[Elevated] events for 2024 are still under consideration," said PGA Tour senior vice president Joel Schuchmann. "RBC Heritage with its history and tradition is one of the tour's storied and important events and certainly worthy of consideration."
The revamped PGA Tour
In addition to elevating the purses of seven weekly stops to $20 million in 2023, the tour increased the purse of the Tournament of Champions to open the year to $15 million, increased the Players Championship purse in March to $25 million, increased the purses to $20 million of the WGC Match Play event in March in its final year and the two playoff events in August leading up to the Tour Championship.
In comparison, the Masters Tournament had a purse of $18 million this year.
The tour will limit fields in 2024 elevated events to between 70 and 80 players, according to Schuchmann, and they are expected to be no-cut events in which all participants play 72 holes and are paid.
"I'd love to play for $20 million every year down here. Heck yeah," Kisner said. ". . . Hopefully they can keep [the purse] around."
The tour is rumored to be creating coinciding events for its other members on the weeks of the elevated events – much like it did in the past for the British Open and World Golf Championship events – and a proposed Myrtle Beach event might be one of those.
"We are working to ensure the best version of the PGA Tour for 2024, which includes changes to the schedule that will be announced over the course of the summer," Schuchmann said.
Steve Wilmot, Heritage tournament director since 1997, said tournament organizers sent a letter to the tour to inform them that they wanted to be a designated event.
"We did tell them we're all in. RBC really wanted to be [a designated event]," Wilmot said. "All the entities wanted to be here. It's good to be us in the fact that we were designated, we're on the schedule with this going forward. There are a lot of tournaments, a lot of host organizations, a lot of communities and title sponsors that wish they were in this position."
The impact on the Heritage
The added importance of the Heritage can be seen in course conditions, according to Kisner, who shot a 79 in the opening round.
"I can tell you they've made the golf course as difficult as I've seen in a long time, so maybe that's not as fun," Kisner said. ". . . The greens are as firm and fast as I've ever seen them and they've added some new tees, making some shots more difficult."
The setting and close proximity to Augusta make the Heritage an ideal follow-up to the Masters on the PGA Tour schedule.
The importance of the Heritage to the tour was evident in 2010-11, when the event went without a title sponsor in 2011, yet the tour stood behind it until it was able to land RBC to secure its future.

If the elevated status is lost, the Heritage should be secure in catering to its group of dedicated top players. Three-time major winner Jordan Spieth, who has played the event seven times, is the defending champion.
The Heritage has been an invitational event, meaning its field was smaller than some other PGA Tour events at 132. A challenge with the designated status was planning for up to 24 more players and their caddies, families, etc, as well as more sponsors, on a property that is limited and confined. Though with withdrawals, 143 players teed off Thursday.
"There's definitely a bigness to what is a small footprint," Wilmot said.
The tournament has been sold out of spectator tickets for about three months, and is allowing slightly more than 20,000 on the grounds daily, Wilmot said.
It has sold out Saturdays several times in recent years, but tickets have generally been available for other days. This year, tickets for all days are being sold on secondary markets for $250 to $300.
"It's going to be five Saturdays," Wilmot said of the crowds. "We've managed the numbers. We feel comfortable where we are. We have to find a happy medium where less is better, less is more [for the spectator experience]. It's the right thing for us to manage the event."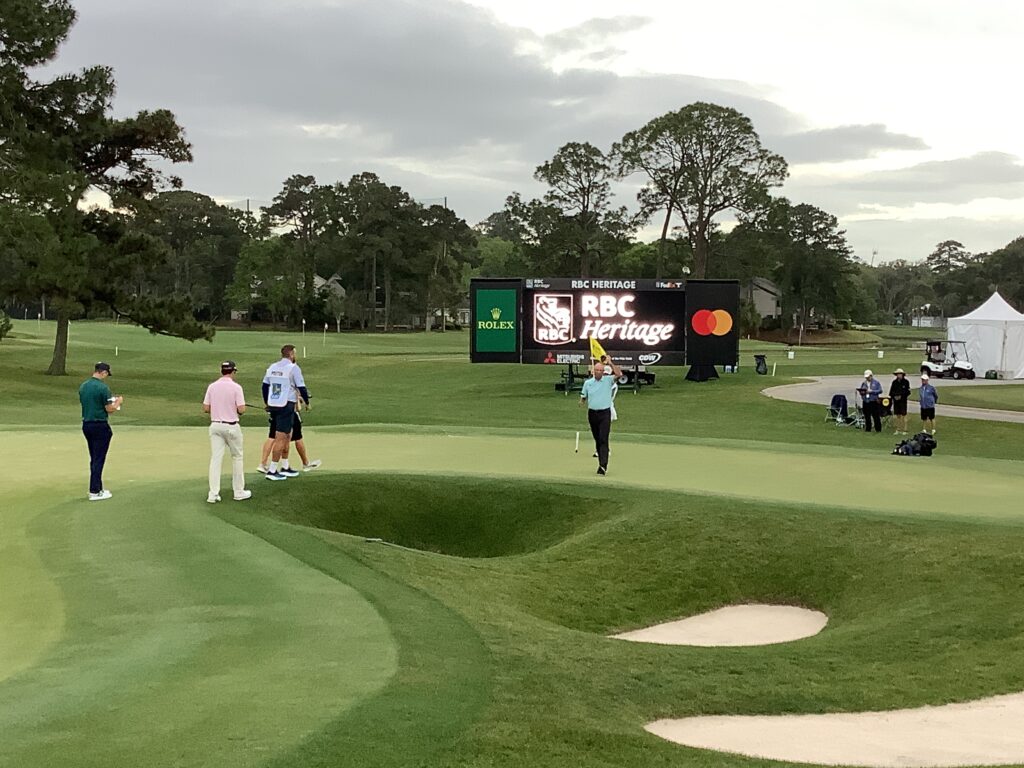 Holding on to history
Tournament organizers are attempting to retain some of the qualities that have given the Heritage its past relaxed, vacation-type ambiance while also adding to the offerings and amenities.
The tournament day care program has nearly 80 of the players' children, which is the most ever, Wilmot said, and includes outings such as dolphin watch cruises, museum visits, park visits, and arts & crafts.
New this year was a caddie tournament Tuesday featuring 30 two-man teams at Atlantic Dunes in Sea Pines Resort including a small purse and gifts, and a 5K race was added last week to community activities.
Leading up to the tournament, medians, intersections and bike paths have been improved or beautified and there are tournament banners throughout Hilton Head and even Bluffton.
"The energy and the excitement – this community is energized," Wilmot said. "I'm privileged and honored to be a part of something so special and be with so many great entities and partners."
Two-time major champion Zach Johnson said he is still experiencing the relaxation of Sea Pines Resort this week despite the increased status of the event. "I still feel that," said Johnson, a veteran of 17 Heritage events who made it a family vacation when his three children were younger, and vacationed in Hilton Head with his family as a teen.
"This is still one of my favorite events. It wouldn't matter who was in the field or what we were playing for," Johnson said. "The tournament is all about the community and the people, and I love the golf course. . . . When it comes to the oaks and the pines and the community, it's just awesome. It's a vacation destination."
Johnson is one of the event's dedicated players. The 2012 Heritage runner-up played at Harbour Town the week after he won the 2007 Masters, as Jon Rahm is doing this week.
What the future holds
Wilmot believes this week is an audition of sorts for the tournament's prospects of continuing to have elevated status.
"This week is somewhat of an interview, too," he said. "I mean the tour wants to be here . . . but we also want to make sure we're putting our best foot forward with things to make sure the players say they want to be here, and the players have more say than they've ever had on tour."
Wilmot has more insight into the selection of future designated tournaments than some other tournament directors because he is a past chairman of the tour's tournament advisory council, and sits in on Player Advisory Council and policy board meetings in that capacity. He was elected chair by his peers in 2019.
RBC's title sponsorship contract expires this year, while presenting sponsor Boeing has one year left on its contract.
Wilmot is confident he won't be seeking a new title sponsor next year. "We're in the process of aligning things for the future," he said. "[RBC is] happy with things and we're trying to work things out. Things are tracking good."
Wilmot believes the RBC Heritage has earned its more lofty status in the world of golf.
"It's kind of like a 'thank you' to the community," Wilmot said. "All the hard work the volunteers have put in, all the people – Joe public – who have bought a ticket in years past, the sponsors, this community. We've been good partners, we've worked hard and we got this."