If you are looking to play at a golf course designed by legend Jack Nicklaus and his design group for much of this spring and summer on the Grand Strand, you're out of luck.
Nicklaus' two public designs in the area – Pawleys Plantation and Long Bay Club – will be closing for renovations later this month for at least 2 ½ months.
Both courses are among 21 on the Strand owned and operated by Founders Group International.
Long Bay Club will close on May 17 and has a projected reopening date of Aug. 1.
FGI has previously announced Pawleys Plantation is scheduled to close from May 22 through Oct. 1 for work that will encompass greens, bunkers, the clubhouse and other aspects of the property.
They are among several courses in the area that are undergoing renovations, though some will remain open through the work.
Long Bay's closing is necessitated by an outbreak of poa annua grass on its Champion ultradwarf Bermudagrass greens, which will be replaced with TifEagle Bermuda.
"We feel it will be much more resilient and handle the play we have much better," Long Bay Club head pro Brandon Mensinger said.
The course didn't overseed its greens this winter in an attempt to eliminate the poa annua, which is a common grass on greens on the West Coast but infiltrates bentgrass and Bermuda in this region. Yet it remained, and its seed heads this spring have impacted the smoothness and aesthetics of the putting surfaces.
"We're trying to be proactive and get after these things," Mensinger said. ". . . With the support of Founders they've decided to come in, give us a little bit of help and get these new greens going."
Long Bay's greens are being enlarged generally back to their original size and shape, which will expand them from 66,000 square feet to 110,000 square feet of total green space over 18 holes.
Troy Vincent of Vincent Design, who was a 15-year design associate for the Nicklaus Group and still works with the company, is providing input into the project, just as he is at Pawleys Plantation.
Founders Group representatives had a pair of on-site meetings in November and February with him.
"They kind of gave their idea of what the original plans were," Mensinger said. "[Vincent] came out, gave us his opinions, gave us a write-up of some things he would like to see done. A lot of really positive projects there, but obviously starting everything with the greens."
In addition to the work on greens:
_ An old, dilapidated school building at the back of the driving range will be razed.
_ Signs at the entrance along S.C. 9 in Longs will be repainted and improved with new lettering.
_ Shelter buildings with water fountains on holes 3 and 13 will be renovated. One suffered damage from a recent hurricane.
_ Drainage will be improved in greenside bunkers on holes 14 and 17.

_ Clean-up and touch-up work will be done to other buildings and areas of the course.
"We've got a lot of really good projects kind of packed into a short time stretch," Mensinger said.
The Long Bay clubhouse and Golden Bear Grille restaurant will remain open to the public throughout the renovation project. Tentative golf shop hours are 8 a.m. to 4 p.m. daily, and restaurant hours are 9 a.m. to 3 p.m.
"I'm really excited personally for this project to get it back in some really good shape and try to come back to be a leader on the north end again," said Mensinger, who has been at Long Bay four years.
The course has been offering $20 gift cards for food and beverage or pro shop expenses to prepaid package groups this spring.
Blackmoor and Legends Resort are among the golf facilities making improvements.
Blackmoor Golf Club
Blackmoor in Murrells Inlet is undergoing an engineered drainage project to the entire course that began in early April and has been considered for several years.
The plan is designed to improve playability and reduce the number of cart path-only days.
Approximately 2,700 tons of sand is being delivered and installed during the project, according to course officials.
The drainage installation is being done one hole at a time, and the hole that is being worked on will be modified for play, or players will be directed to an alternate hole. The other 17 holes will be played normally.
Throughout the project, each prepaid package group is receiving a complimentary lunch consisting of a hot dog, bag of chips, and fountain soda or draft beer.
"Blackmoor is committed to providing outstanding customer experiences and this exciting and long-needed drainage project will dramatically improve the playability, conditioning, and the overall golf experience," Blackmoor head pro Jason Mitchell said in a golf industry memo.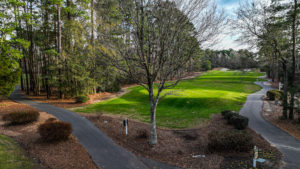 Legends Resort
The bunkers on the Moorland Course at the three-courses Legends Resort off U.S. 501 outside Myrtle Beach were completely renovated last summer and fall, according to superintendent Mike Bankert.
The goal was to eliminate the sand from washing off the faces after rain events, and improve drainage. The bunkers had been inconsistent and had a combination of silt and sand, which made them drain slowly, Bankert said.
The renovation was meant to maintain the existing shape but eliminate steep sand faces, and grass was sloped to push rain water runoff around bunkers.
Bunkers were given a flatter bottom, the floors of a few were raised, and some faces were sodded.
Bankert said BV Hendricks premium sand, which has bigger particles and allows the club to slide through a little easier, was used in renovations.
While the Moorland course remains a challenge, the bunkers are now more consistent and playable.