Those in the Myrtle Beach golf industry have learned from the past.
One of the worst winter freezes on record in early January 2018 led to the closure of every course in the market for between three to eight days as courses thawed out and snow melted.
That winter freeze also led to the closure that summer of more than a dozen courses to repair or replace greens damaged by winterkill.
So course owners and operators on the Grand Strand closed their courses in unison Friday through Sunday, Dec. 23-25, at least, in a preemptive move to protect their greens from damage that could impact the important and lucrative spring golf season and beyond.
So you weren't able to play golf on the Strand that weekend, but it's for the greater good.
Many Myrtle Beach courses joined forces to invest in green covers – essentially cloth-like tarps – that keep the putting surfaces warmer than the air temperature, and many were placed on greens throughout the market on Dec. 22.
Other courses planned to place the covers on Dec. 23, though it was forecast to be cold and windy, which makes their installation more difficult.
"Out of an abundance of caution we are covering our greens," said Max Morgan, Founders Group International's vice president and director of agronomy. "Now that we have them, we feel it would be really foolish if we had covers at the shop and we didn't use them and we got winter damage. That would be shame on us."
FGI owns and operates 21 courses in the market.
Some courses weren't planning to reopen until Tuesday with cold weather still in the forecast for Monday night.
According to weather.com, temperatures in Myrtle Beach were expected to dip into the teens overnight Friday and low temperatures were forecast to be between 22 and 30 through Tuesday night. Low temperatures Friday through Tuesday in Conway were forecast to be between 16 and 25, and highs were below 50 each day in both locations.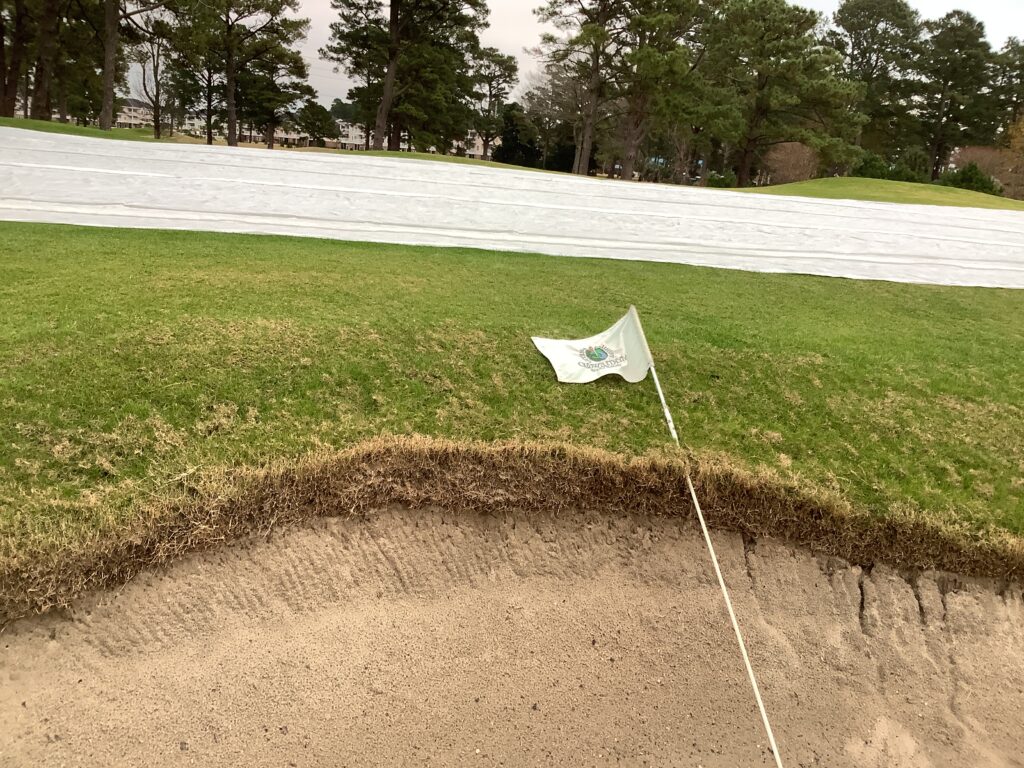 Avoiding a repeat of 2018
A mass voluntary course closure on the Strand is rare. Courses are accustomed to closing for natural disasters such as hurricanes, but then try to reopen as soon as possible.
But the threat of winterkill will do it, particularly during a typically slow Christmas period with terrible weather conditions.
Winterkill is a term used to describe grass that is damaged or killed by harsh winter conditions. It affects warm-season grasses, and warm-weather Bermudagrass is the predominant turf on greens, tees, fairways and roughs in the Carolinas.
If greens – and other parts of courses with Bermuda – are damaged, it may not become evident until Bermudagrass begins to awaken from dormancy, which generally occurs in May and early June.

Tracy Conner, executive director of the Myrtle Beach Golf Course Owners Association, said in 2018 fewer than 10 courses had green covers.
"Those courses that were able to cover came through that and had minimal to no issues. The ones that didn't, some of them were devastated," Conner said. "We certainly learned a lesson and the market invested in greens covers to protect their investment for the spring golf season and their asset, which is the greens.
"So let's get these things covered and be sure we're in great shape for the spring, because spring golf looks like it's going to be just fantastic."
The course owners association negotiated a mass purchase at a slight discount from a cover manufacturer in 2018, leading to most courses in the market attaining the covers for some or all of their greens.
In addition to the dozen-plus courses that closed in the summer of 2018 to replace or repair greens, many others repaired damage to course conditions while remaining open. Sod for several types of greens grasses became hard to find for a few months because of the demand created by mass renovations.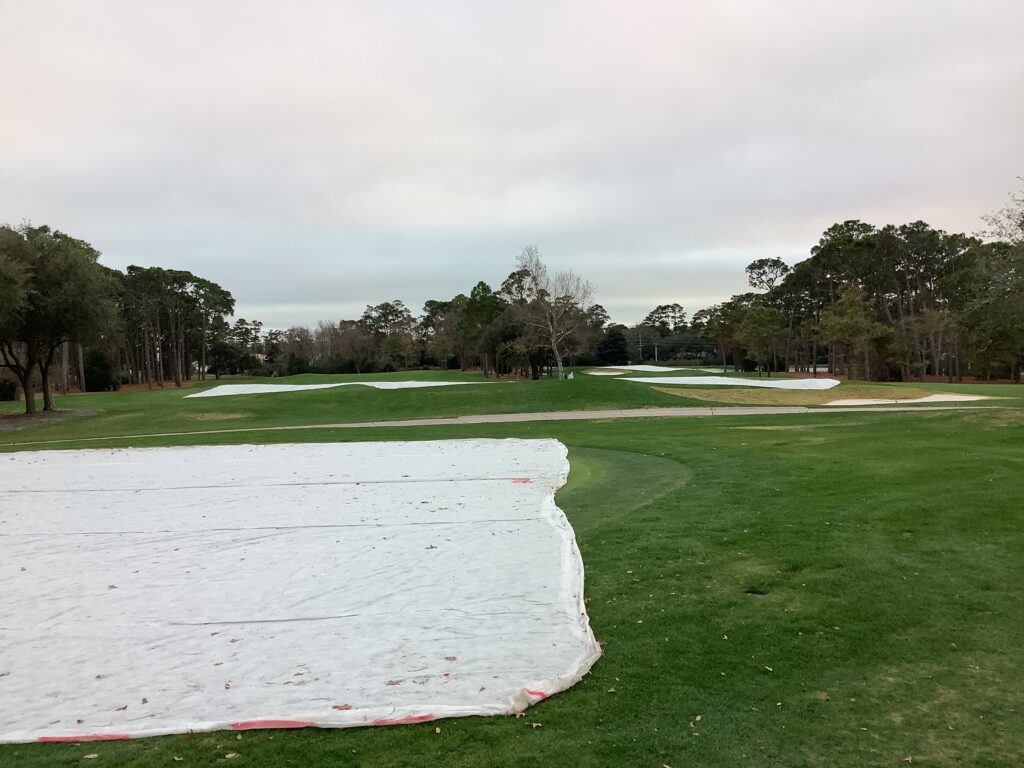 All of FGI's 21 courses have covers: about seven have 18, most have about 10 and Litchfield Country Club has five.
The greens most susceptible to a prolonged freeze – essentially those in shaded areas or facing north or west – will be covered if all greens can't be covered. "Any green that faces inland will get covered," Morgan said. "There was a remarkable difference [in 2018] so that is one of the criteria we use for covering."
The freeze isn't expected to be as extreme as the one in January 2018. "I don't anticipate the greens we don't cover getting damaged," Morgan said.
FGI installed its covers Thursday because of the 20-plus mph winds predicted for Friday. "The covers are unwieldy when it's not windy, but when it's extremely windy they are dangerous to deploy," Morgan said. "It picks people up off their feet and the [decision] between letting go or hanging on is really challenging."
Most courses plan to remove the covers on Monday morning to possibly reopen early Monday afternoon. It generally takes 3-4 total hours to install or remove the covers.
"We've got the covers and it's cheap insurance. The cost if we don't cover is huge so it's like a no-brainer," Morgan said.
FGI's Grande Dunes Resort Course, which had new greens and base soil installed this summer, is among the courses that will remain closed until at least Tuesday.
Morgan said course superintendents that don't have green covers will want to keep their greens watered so they don't dry out in the midst of prolonged cold temperatures.
Courses that indicated they planned to remain open Friday included Arrowhead Country Club and Brunswick Plantation, and the Heathland Course at Legends Golf Resort planned to remain open Friday and Saturday, weather permitting.
The closures gave employees an opportunity to be home with their families for the holiday weekend.