Do you find there's not enough time in the day to play a round of golf?
Well, now you can play at night on the Grand Strand.
A group effort by Beachwood Golf Club in North Myrtle Beach, and the companies Lit Night Golf and Glow Vibe Golf has brought nine-hole night golf tournaments to the area.
The first event was a bit of a test run on March 1 and attracted 72 players, the second was canceled due to poor weather, and the third is scheduled for 7:30 p.m. Wednesday.
Events are scheduled every other Wednesday through May at Beachwood.
"It's just so much fun," said Lit Golf co-founder Matt Coapman. "It's kind of the opposite of golf and all the rules, right? There's music playing and you're having a good time, and it almost feels like you're trespassing, but even better because you're playing golf. You turn on the music, pop a few brewskies and go have a great time."
The tournaments are nine holes with a captain's choice scramble format with shotgun starts.
The events include side cash games of skill on the practice facilities such as a long putt, and cash games of skill within the tournaments such as hole-in-one, longest drive and closest-to-the-pin contests.
Joining forces for fun
Lit Golf provides the entertainment and marketing, Glow Vibe provides the lighting and course setup, and Beachwood Golf Club provides the venue.
Glow Vibe has been involved in night golf for some time, while both Lit Golf and Beachwood are new to the game.
Balls light up for a period of time after they are initially struck, and an LED lighting system identifies any hazards, bridges and greens, and the flagstick has a light that shines down from the top. Carts have front and back lights, as well.
Beachwood head pro Larry Panther said Beachwood is a good golf course for it because there aren't many hazards such as water and bridges that could create dangerous situations.

"We provide a venue that is free of homes, free of a lot of miscellaneous things that could cause harm or damage to the players," Panther said. "We don't have a lot of water. Our course is very open and easy to manipulate."
Both Coapman and Panther wanted to get involved in night golf after each played in a couple of events. Coapman played in the Charlotte area and Panther played in Pinehurst.
"I fell in love with night golf last year. I saw a way to have a great time, go to cool places and meet cool people," Coapman said.
Beachwood is Lit Golf's first venture, and the company is beginning to work with other courses in Texas and Florida.
"I think the game has opened up," Coapman said. "The game has grown so much through the pandemic, and we're seeing trends that golfers want to be more entertained. They want to play shorter rounds. With the explosion of Topgolf and stuff like that, the entertainment aspect is becoming more and more popular.
"We plan to work with private and public courses nationwide to take this concept to anyone that will have us."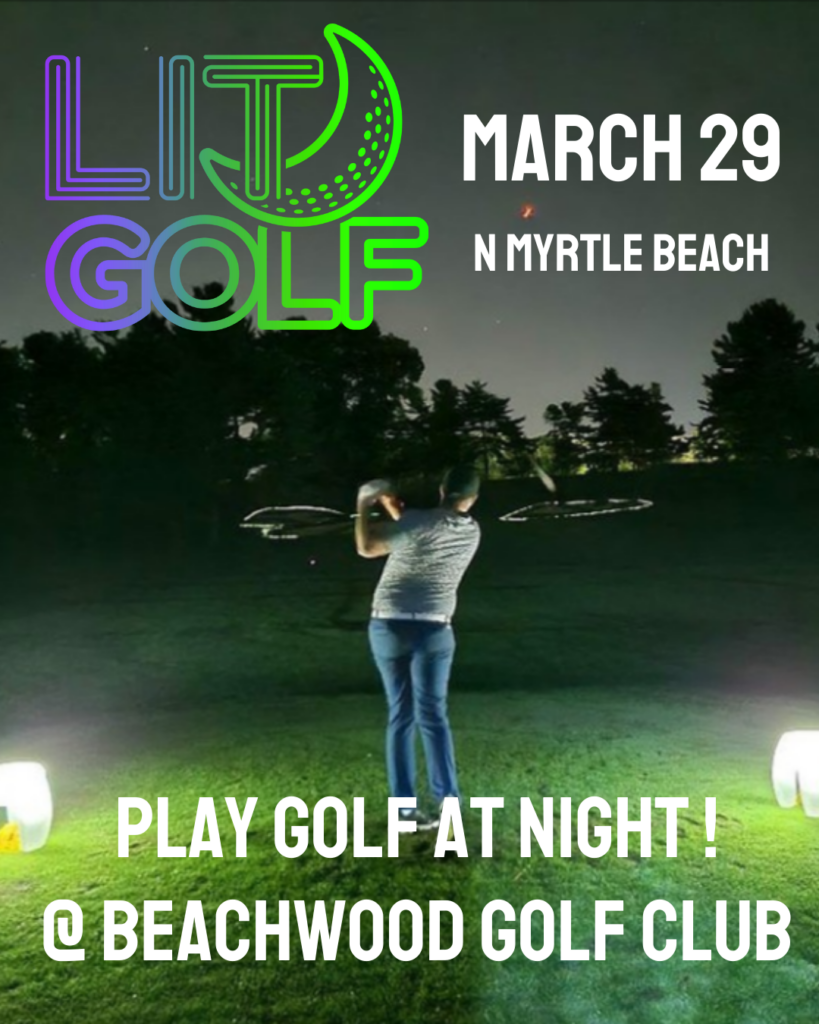 Coapman is a Charlotte resident and part-time resident of the North Strand in Ocean Isle Beach, N.C. His partner in Lit Golf is filmmaker Ryan Ross, whose projects include movies and television series. A recent project was the Fox show 'Deputy' starring Stephen Dorff.
"When you can combine work and play that's a wonderful scenario so that's our goal," Coapman said.
Tournament specifics
The balls go slightly less distance than a typical golf ball – Panther estimates it at 80 percent – so the course is set up essentially from the red tees at less than 3,000 yards.
"We're trying to get them to have pars and birdies," Panther said. "And we give opportunities for beginning golfers, people who want to enjoy the evening, just like going to a Topgolf type of thing, they can go out there and hit a golf ball and not feel embarrassed or ashamed they don't hit it as far as someone else."
The first Beachwood event featured two foursomes off each tee on nine holes, and future events including Wednesday's may expand to 144 players with participants starting on all 18 holes if demand warrants, Panther said.
Panther said entry fees for events are expected to be between $50 and $70.