Jimmy Biggs and Mike Benson are about to play their 1,000th holes of golf on Sunday in support of the families of fallen and disabled military members.
For the 10th consecutive year, the two Grand Strand club golf professionals representing Pine Lakes Country Club and Crow Creek Golf Club, respectively, are playing a one-day, 100-hole golf marathon that will benefit the Folds of Honor Foundation.
They are two of 19 this year playing International World Tour Golf Links, as each year Biggs organizes a group of people in the golf industry to participate and raise money. A handful of others will be participating in their ninth Patriot Golf Day marathon.
The Folds of Honor raises money to provide educational scholarships to spouses and children of fallen and disabled military members.
Each participant must raise or pledge $5,000 before they can be among the 'Myrtle Beach Patriots,' as they've come to call themselves, included in the golf marathon. They often raise additional money through pledges from individuals for each par, birdie or eagle they make.
Lt. Col Dan Rooney, a retired fighter pilot, is the founder and CEO of Folds of Honor.
Biggs was called to action after hearing Rooney speak at a Carolinas PGA Section meeting.
"I was just really excited about the mission and thought it was kind of a neat idea," Biggs said. "We got the idea of playing a marathon, and the whole reason behind the 100 holes was to get people to ask why we're playing 100 holes, and that would be the opportunity to explain what the Folds of Honor is, what their mission is.
"I've yet to run into anybody who hasn't been excited about playing golf and having it go towards these military families. Myrtle Beach, the community itself, has been overwhelmingly generous."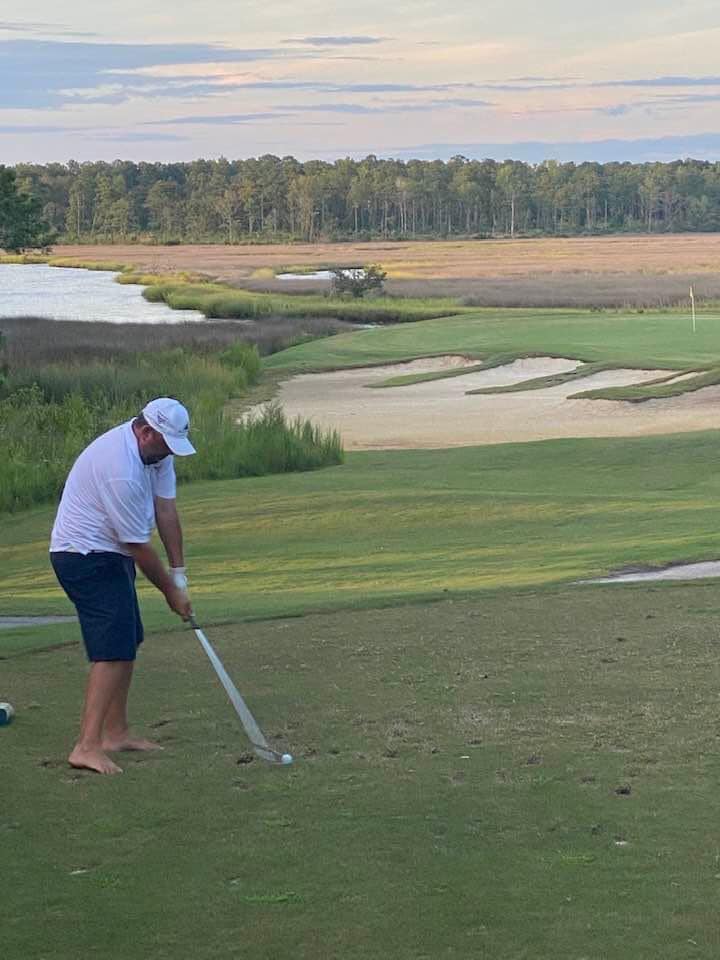 Patriot Golf Day began on Labor Day Weekend in 2007 as a grassroots golf fundraising initiative, and though it has moved to Memorial Day Weekend in late May nationally, it is still held near Labor Day on the Strand because it's generally a slower and less hectic time of year on area courses.
Last year the Myrtle Beach Patriots exceeded the $1 million mark in donations generated through the golf marathon – or 204 $5,000 scholarships.
"It's nothing to shake a stick at. It's pretty good that 204 lives are going to get an education because of playing golf," Biggs said.

The opportunity to play the 100 holes is now being offered to anyone in the community who raises $5,000. "If you raise a scholarship you can play 100 holes with us," Biggs said.
This year, in fact, one of the regular donors, Tom Moxley, has decided to participate. "He has no idea what he's getting into but he'd love to try it," Biggs said.
Last year, the opportunity to play was auctioned off to raise additional funds.
The marathon begins before sunrise and lasts about 12 hours until approximately sunset. Time permitting, all 19 golfers will play the final hole together and celebrate their accomplishment on the final green with supporters.
The 100 holes take their toll.
"It's not the day after the 100, it's the second day after the 100," Biggs said. "The first day you're just exhausted. The second day is when you start to feel all the pains in the back and the joints. There's definitely a steady supply of Advil going into all of us, I assure you.
"That's the sacrifice we make for getting all those donations. [Participant] Mike Bender always says, 'We're not getting shot at, we're playing golf.' If this is what we can do to honor the sacrifice of one of our fallen, then that's what we're going to do."
Founders Group International and East Coast Golf Management are steadfast supporters of the marathon, so their courses host the marathon and many of the pros at their affiliated courses participate.
Rivers Edge Golf Links was the original host course and has hosted the most marathons.
Playing 1,900 holes collectively Sunday along with Biggs, Benson and Moxley will be FGI pros and representatives Matt Daly, Brad Crumling, Dustin Powers, Eddie Overstreet, Brandon Mensinger, Brian Lewis and Corey Bowers; East Coast's Myrtle Beach Golf Trail pros Jeff Davis, Dan Miller and Billy Rowehl; Matt Biddington of the Members Club at Grande Dunes; Jarrin Josue of Golf Trek; sales rep Casey Cook; Brian Stefan of The Landings (Ga.); Jack Curry of 2UNDR, and honorary guest Hagan Smith.
Donations or pledges of support can be made at the Myrtle Beach Patriots webpage https://charity.pledgeit.org/myrtlebeachpatriots.