On The Green Magazine sent out a survey to our list of email subscribers to find out which golf holes were their favorites in the Myrtle Beach area.
The criteria for judging was to choose the holes that gave the most golfing enjoyment. Each respondent could name up to three golf holes. Not necessarily the highest "rated" or most scenic, just the ones that they really enjoyed playing – the holes that they talked about later with their golfing buddies. The usual suspects received votes – The Dunes Club, Caledonia, Glen Dornoch, Kings North and more. The votes didn't stick to a few well-known golf holes. Surprisingly there were 190 different holes listed as favorites. Several courses had multiple holes listed as favorites. These courses may not have "won" the contest but if 4 or 5 holes out of 18 are chosen as people's favorites that is a course worth playing.
Reader's Choice Top Three Golf Holes
Glen Dornoch #16
A par 4 that heads directly toward the Intracoastal Waterway. Ideally your first shot rolls to a stop near the top of the hill without rolling over into the marshy waste area. Your next shot will have a hard time hitting the green and sticking without going too far over or to the right into the marsh. Try to ignore the passing yachts and fishing boats as you putt out. This is a hole that requires planning and positioning as well as accurate shots. More about Glen Dornoch…
.
Caledonia #18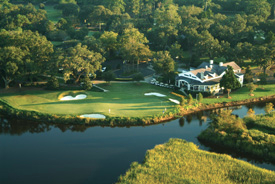 Perhaps the most striking aesthetic feature of the plantation is the impressive avenue of 150-year-old live oaks leading to the clubhouse steps. The picturesque par 4 18th hole borders the Plantation's old rice field and requires a precise tee shot that sets up a difficult second shot: a forced carry onto a green at the foot of the clubhouse where onlookers may be sitting in rocking chairs betting on shots' results. More about Caledonia…
.
Rivers Edge #9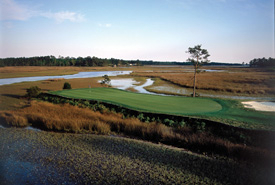 The very first day that Arnold Palmer gazed out across the Shallotte River he remarked that this site had the potential to be something very special. Six of the holes at Rivers Edge Golf Club sit high upon bluffs that overlook two miles of grassy marshlands bisected by the bends and turns of the Shallotte River. Hole #9 is a par 5 that seems to get narrower and narrower as you progress down the fairway leaving the golfer with a wedge shot to a very narrow deep green. More about Rivers Edge…
.
On The Green Readers Choice Top 18 Holes
These holes are listed in order. Glen Dornoch #16 received the most votes as "Favorite Golf Hole."
Glen Dornoch Par 4 #16
Caledonia Par 4 #18
Rivers Edge Par 5 #9
Glen Dornoch Par 4 #18
Farmstead Par 6 #18
Oyster Bay Par 4 #13
River Club Par 5 #18
MBN Kings North Par 5 #6
Grande Dunes – Resort Course Par 3 #14
Heather Glen – White nine Par 5 #9
Heritage Club Par 5 #18
Long Bay Par 4 #10
TPC of Myrtle Beach Par 5 #18
Dunes Club Par 5 #13
True Blue Par 4 #18
Legends Moorland Par 4  #16
Lockwood Folly Par 5 #18
Tidewater  Par3 #3
Courses With Multiple Holes Chosen as Favorites
It's nice to have one of your 18 or 27 golf holes chosen as a favorite by somebody. It's even better when several of your holes are chosen as favorites. These are courses that had multiple holes chosen as a favorite by some one. The number shows the number of different holes chosen. Some of these holes have received multiple votes.
Arcadian Shores – 3 holes
Arrowhead – 5 holes
Dye Course at Barefoot Resort – 3 holes
Caledonia – 6 holes
Dunes Club – 4 holes
Glen Dornoch – 7 holes
Grande Dunes Resort Course – 4 holes
Heather Glen – 9 holes
Heritage Club – 4 holes
Moorland at the Legends – 5 holes
Long Bay – 3 holes
MBN Kings North – 5 holes
Meadowlands – 3 holes
Tigers Eye at Ocean Ridge – 3 holes
Oyster Bay – 7 holes
Pawleys Plantation – 4 holes
Pine Lakes – 3 holes
Prestwick – 3 holes
Rivers Edge – 6 holes
Shaftesbury Glen – 5 holes
Tidewater – 8 holes
True Blue – 7 holes
Wicked Stick – 4 holes
The Witch – 7 holes
The Wizard – 3 holes
World Tour – 4 holes
Comments by Our Respondents
Our survey-takers could comment on their choices if they wished. Here are a few of the comments:
Caledonia #18 – "Not a long hole, but a great test of both skills and nerve on a beautiful course. Get it down the neck of the fairway and as close to the hazard on the right as you dare to make the approach a bit easier. Watch out if the wind is blowing, because it's normally into your face on the approach shot. Even more exciting when your buddies are sitting on the porch of the clubhouse watching the approach shot carry over the water and marsh to the green."
Tidewater #3 – "Short par 3 that seems very playable from the tee. The green is diabolical with numerous slopes and undulations… some are severe. There is always some wind off the marsh which separates Tidewater from Cherry Grove Beach. The challenge is not necessarily the distance although you need to stay out of the bunkers; the hard part about knocking down your par is to put the ball in the correct quadrant to take the pressure off the putter. Choose the club wisely."
True Blue #3 – "Prettiest par 3… different every time. Can be anywhere from a wedge to a 6 iron depending on where they put the flag/tees."
Kings North – "Not sure on the number but its the famous Gambler Hole. Just a great par 5. Love the challenge of trying to put it on to the island fairway and have it out there long enough to go for the green in two with an iron in your hands."
How fair are these lists?
Our survey wasn't on a web site where employees could go and wear out our submit button to boost their course's standing. If you were not on the On The Green email list you didn't even know about this survey (an excellent reason to join our emailing list – find it near the top left side of this page). The votes were submitted by golfers who visited our web site over the years, joined our list, and receive our occasional email.