If Charlie Rymer was to watch some early episodes of the 2022 Charlie Rymer Golf Show that aired on ESPN2, he'd be as unfamiliar with some segments as a first-time viewer.
Rymer doesn't recall a lot of the filming of a few episodes.
He was in the midst of aggressive treatment for colon cancer in late spring when several episodes were shot.
Surgery to remove about a foot of his colon and serious complications that followed had Rymer hospitalized for nine days, and that was followed by heavy doses of chemotherapy.
Rymer dutifully soldiered on to promote the Myrtle Beach golf market on his show throughout the sometimes debilitating treatment.
"While I was going through the chemo I was also taping a lot of those shows, so I've got to tell you, there were some days I just don't remember very well," he said. "I was happy to get through them and happy with the way the shows turned out. I really had some neat guests.
"But if you asked me to do the recap of every one of the shows I'd have to go look a few things up on my calendar."
Deemed cancer free since late July, the 55-year-old Fort Mill native is embarking on his fifth year representing Grand Strand golf as a contracted ambassador for the Golf Tourism Solutions technology and marketing agency that promotes the market.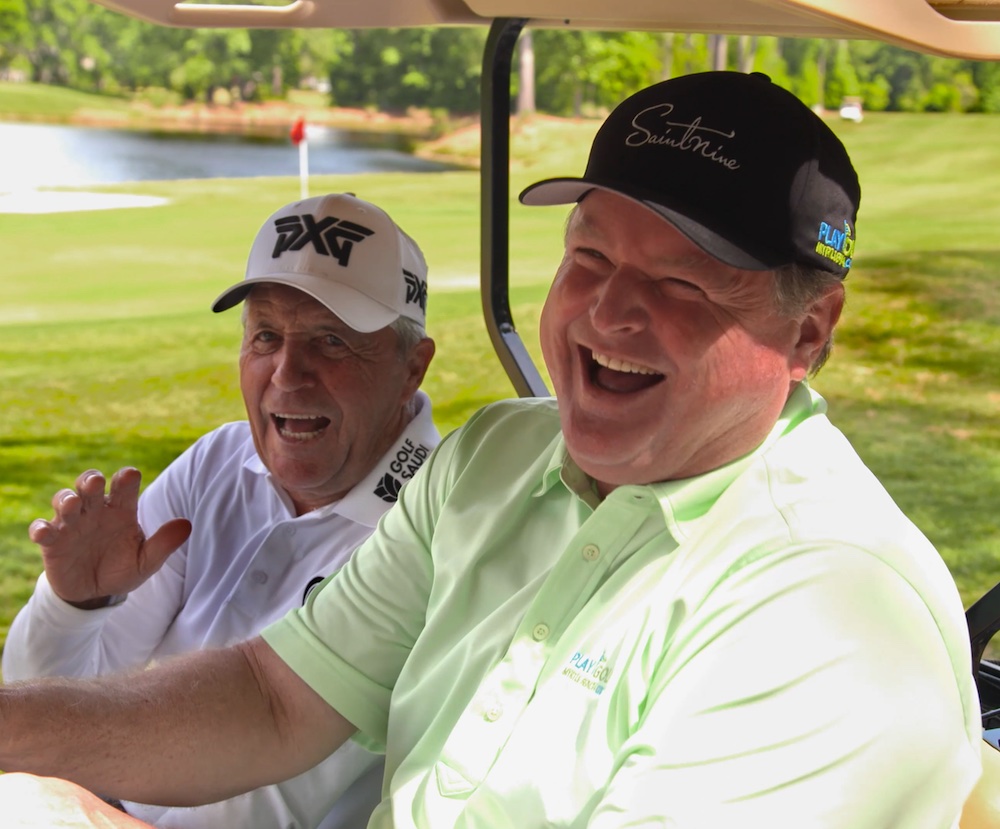 An arduous battle
A polyp was detected during a routine colonoscopy, and though it was tested multiple times and thought to be benign, two relatively non-invasive procedures to remove it were unsuccessful.
Rymer had surgery to remove it at Tidelands hospital in Murrells Inlet, and subsequent pathology tests revealed Rymer had developed Stage 3 colon cancer that was also detected in lymph nodes, though doctors said it was caught relatively early.
"It was a big shock because here I was thinking I got this thing out of my body before it turned to cancer," Rymer said.
Following surgery, Rymer suffered from ileus, as his digestive system essentially shut down. While it sometimes lasts 24 to 48 hours, Rymer suffered from it for eight days. He was advised to walk and move around to help initiate his digestive system, but it wasn't helping.
A few hours prior to a scheduled emergency surgery, and without food or water for a week while hallucinating from drugs, Rymer was in pain and desperate.
With his wife asleep in the hospital room, he pulled a couple prohibitive and painful tubes out – consciously or subconsciously – including one that went into his stomach through his nose, and left his hospital bed.
"It was 2 or 3 in the morning and I just started walking around the hospital," Rymer said. "I've got that thing with me with all the drugs and IV on it, and I found a room and I just started rolling around on the hardest surface I could find. I was making it hurt so bad I yelled and screamed and I think I knocked myself out a couple times. Finally I felt a little movement in my stomach, and I'm like, 'I got you now.' "
The ileus scare behind him, Rymer took on chemo, and he chose the best place he could find to do it, the heralded MD Anderson cancer center in Houston.
He was on three-week chemo cycles and went to Houston for the start of each and tried to tape shows at the end of the cycles, when he expected to feel better. But some guests were only available for periods early in the cycle.
"Those are the ones I don't remember very well," Rymer said. He had to cut some days short and add days to the show tapings on occasion.
"I wouldn't put the worst person on the planet through what I went through. It changes you," Rymer said. "If it had been torture I would have told you every secret I ever knew.
"You would have some dark days in dealing with it. Some days I could function, I could do work, I could do TV shows . . . but then there were other days where I just had to call everything off and say, 'Hey, I'm going to the bed and setting the thermostat at 60 and I'm going to curl up and I can't talk on the phone.' "
Rymer's wife, Carol, is a recovery room nurse at Tidelands, and both her expertise and caring were instrumental in Rymer's recovery. "Having a wife who is an RN is just absolutely invaluable for me," he said.
---
Catch an episode of the Charlie Rymer Show Here & Here
Rymer rang the bell at MD Anderson in late July following his final cancer treatment. He'll remain under surveillance for three years with tests every three months and full body scans every six months.

"I feel my prognosis is excellent now because of catching it very early," Rymer said. "Without the colonoscopy having caught it, three, four or five years from now I could have been in a really tough spot.
". . . Every day that goes by where they don't detect cancer in your body somewhere is almost like a victory because you know your chances of getting it are becoming less and less and less."
'I feel my prognosis is excellent now because of catching it very early. Without the colonoscopy having caught it, three, four or five years from now I could have been in a really tough spot.'

Charlie Rymer
He has made a mission out of promoting early colonoscopy screenings for men, has joined some initiatives to spread the word, and is being interviewed by Columbia native Craig Melvin on NBC's Today Show on the subject. Melvin lost a brother at the age of 43 to colon cancer in 2020.
"This saved my life and it's got a chance of saving yours as well," Rymer said. "It's a big part of what I'm going to try to do moving forward."
Rymer needed a follow-up surgery in December to remove a protruding surgical hernia that commonly develops following his type of colon surgery.
"I felt like I had an alien living in my belly. When I'd stand up it would poke out," said Rymer, who nicknamed the hernia 'Little Charlie.' "I'd have conversations with him. It was like that Tom Hanks movie when he's on the deserted island. He had Wilson the soccer ball. I had Little Charlie the hernia. I miss him now but not terribly."
The 6-foot-4 and stout Rymer figured the one possible benefit he'd garner from his cancer battle would be weight loss. But that evaded him.
"Cancer sucks, and the only positive I could think of about the whole thing was 'I'm going to lose some weight,' " Rymer said. "Well the two kinds of chemo I was on, the No. 2 side effect from both of them was weight gain. I'm like, 'Really? Really?' It blew me up. I'm just now hopeful of returning to being able, and I'm starting to get a little bit of the weight off."
He is just now getting through the six-week recovery period for his hernia surgery.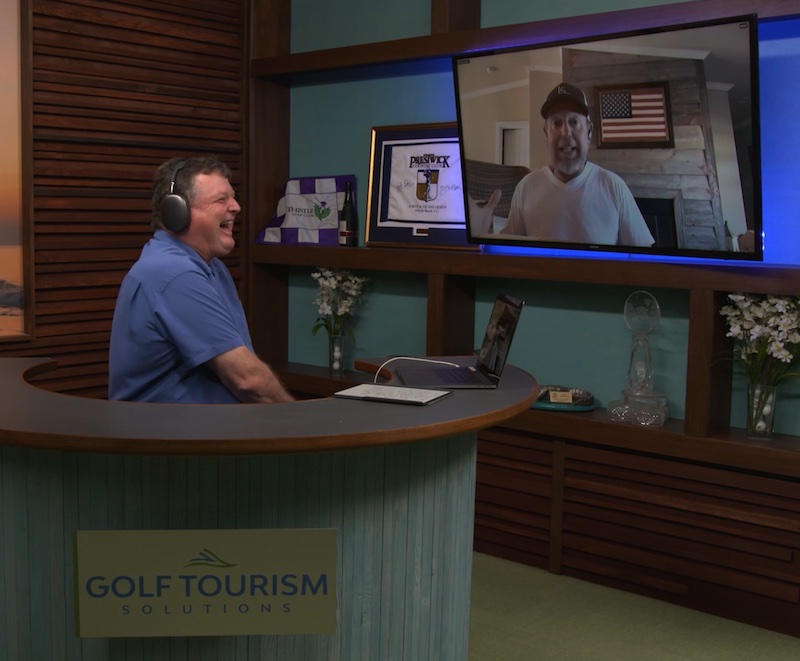 A Myrtle Beach connection
Rymer is in the fifth year in 2023 of his marketing agreement with GTS after leaving an 11-year run at Golf Channel that made him a household name in golf circles.
The Charlie Rymer Golf Show moved to Sunday mornings on ESPN2 in 2022 after an inaugural year in primetime on Monday nights on CBS Sports Network in 2021. He filmed 14 episodes in 2022 over three months.
His guests included Gary Player, Nick Faldo, Nancy Lopez, John Daly, Anthony Anderson and Dustin Johnson. "I was really proud of the shows that we were able to put out," he said.
It typically aired at 8 a.m., but the time wasn't static. "That's one of the challenges we had, it would move around a little bit," Rymer said. ". . . The ratings were actually surprisingly good for these days."
Rymer said he's unsure about the show's future. "I'm hopeful. There's always a chance, and hopefully we'll know here in the next few months," said Rymer, who expects episodes to begin airing late in the fall if they are filmed in 2023. "There's a lot up in the air over all that right now."
A large Rymer project with GTS this year is creating and posting video content for all 70-plus GTS member courses. He's providing some commentary of course drone footage and providing a golf tip on a hole at each course. "That will be the bulk of what I try to get done this year," he said.
He also writes a blog once a month for GTS, is an emcee at the Myrtle Beach World Amateur Handicap Championship, appears at many other GTS tournaments, and makes other appearances representing the market, "It's sort of a cross-section of different things they have me do," he said.
His connection to Myrtle Beach began in his youth when he'd play and practice on the Grand Strand, and his professional relationship started as a celebrity guest at the World Am maybe 20 years ago and expanded as host and one of four cast members of the Golf Channel show "Road Trip: Myrtle Beach" in 2007.
Aside from Myrtle Beach, Rymer has recently taken on the role of executive vice president of McLemore Golf Club in Rising Fawn, Tennessee, near Chattanooga, where Rymer was born and still has a lot of family members. He now splits time between his homes in Murrells Inlet and at McLemore.
He will also co-host with Rob Riggle the celebrity Ace Shootout in Hawaii that airs this spring on Golf Channel and benefits the Children's Miracle Network Hospitals.
He's open to doing additional TV work. "I do miss it," he said. "The business behind TV can be pretty brutal, I don't miss that at all, but hopefully I'll get a chance to do a little bit more live TV at some point."
It has been a few tough few years for Rymer, who is almost invariably congenial and witty – hence the playful nickname of "Big Time."
The cancer battle comes after a harrowing fight against the coronavirus in 2020 that caused him to be hospitalized for five days, lose nearly 20 pounds over 10 days and remain weakened for several weeks.
"I never thought I was going to be that guy, but I'm hoping it's clear sailing ahead for a long time," Rymer said. "I feel like I've paid my dues."