The stage is set for Sea Trail Golf Resort & Convention Center to become the epicenter of Sunset Beach, N.C.
The key components of an extensive plan to rejuvenate the three-course, 2,000-acre resort have all been approved by the Sunset Beach town council, and the owners and developers of the plan are working to implement it.
Sea Trail Investments, LLC, headed by Robert Hill of Riptide Builders and Parker Smith of the golf package company Golf Trek, purchased land and amenities within the resort in early March and presented development plans to the council during an all-day meeting last Monday.
The council approved rezoning to allow for a 150-room hotel, 450 short-term rental units that are intended for visitors and tourists, and several commercial businesses within Sea Trail.
"We passed the commercial part so hopefully we can revive these golf courses and get it back to being the jewel it's supposed to be," Sunset Beach mayor Shannon Phillips said. "I mean we've got a diamond. It's just dull right now. It's time to make it shine.
"I think the council has opened the door where it can, I think the right investors are in here and I think they're going to make something that this whole town will be proud of."
Smith said it could take up to seven years to complete the entire development plan. He and Hill are meeting with and seeking additional investors to bring the entire plan to fruition.
Hill has stated that Sea Trail Investments LLC is under contract to buy the three golf courses and two accompanying clubhouses, and could close on them as early as October, though some details of the sale are still being worked out.
That purchase would open the door for some improvements and possible restorative renovations on the courses.
Sea Trail features 18-hole courses designed by Dan Maples, Rees Jones and Willard Byrd, which all opened between 1986 and 1990. The courses are part of the Myrtle Beach Golf Trail cooperative that is overseen by East Coast Golf Management.
The courses and clubhouses are owned by Chinaway Corporate Development LLC, a company headed by Chinese businessman Zhenquan Pan that sold the 50,000-square-foot convention center, 15 acres of property next to it, and a Village Activity Center to Sea Trail Investments in March.
The sale of the courses and clubhouses, one of which includes Magnolias Restaurant, would end Chinaway's involvement in Sea Trail. It purchased the community in June 2013 at a Chapter 11 bankruptcy auction for $8.5 million, and has had a lot of turnover at key positions since.
Development, opening details
Sea Trail Investments hopes to open the convention center, which has been closed since 2018, by the end of the summer.
Since its purchase in March, the company has been working on renovations and has completed them on the roof, landscaping, lighting, pressure washing and the parking lot. Interior tile work is underway and is the last major hurdle to reopening.
Smith said it could take up to three years to open the adjacent hotel.
The hotel brand hasn't been established but Smith, who noted there are no hotels in Sunset Beach, said it will "definitely be a national player. . . . It just makes sense, especially with the convention center, a Marriott or Hilton would have all the connections for convention business and whatnot in addition to the golf."
Smith said the rental units will be between two and four bedrooms each. Their entire buildout will likely take a few years, though 125 may be built within a year. "We already have plans for that," Smith said.
"The challenge from the golf side is there's not enough rooms to really maximize the potential of the golf courses, and the golf course quality has suffered because [of that]," Smith said. "So the approval of a 150-room hotel and 450 vacation or short-term rentals will provide much-needed room inventory that's new and can enable the golf courses to be invested in."
Smith said both the insufficient number and age of the available rental units needs to be rectified.
"Some of those condos that our golfers stay in go back to 1985," he said. "Nothing new has been built [since the late 1990s]. There's a huge demand. . . . The key is to get those rooms so some major, major dollars are being invested in the golf courses."

The town council's approvals Monday included a Topgolf-like entertainment complex that may include Toptracer technology, a golf cart rental business, a convenience store, and multiple new food and beverage establishments.
Other proposed businesses include a financial institution, day care, dry cleaning and laundry, grocery store, hardware store, sporting goods store, health care facility, pharmacy, professional offices and services such as doctors and attorneys, retail stores, a storage facility, beach equipment sales, barber/hairdresser shop, bicycle shop, candy store, clothing store, flower shop, jewelry store, gift shop, entertainment and amusement businesses, miniature golf, and non-motorized vehicles and beach equipment rentals.
"You've got to have a place for people to stay, and you've got to have things for them to spend their money on," Phillips said. "It needs to be a one-stop shop . . . to get this money flowing here for our citizens so we won't have to eat [the cost of] everything here, get some commercial money coming in."
A children's playground, park, fairground, community center, tennis courts, a swimming pool, outdoor bazaars, lighted driving range, and a performing arts center are also possible land uses that are proposed.
"Instead of being one of these towns where their golf courses close up and it's all going to be developed, I think we're going to put three championship golf courses back in play," Phillips said.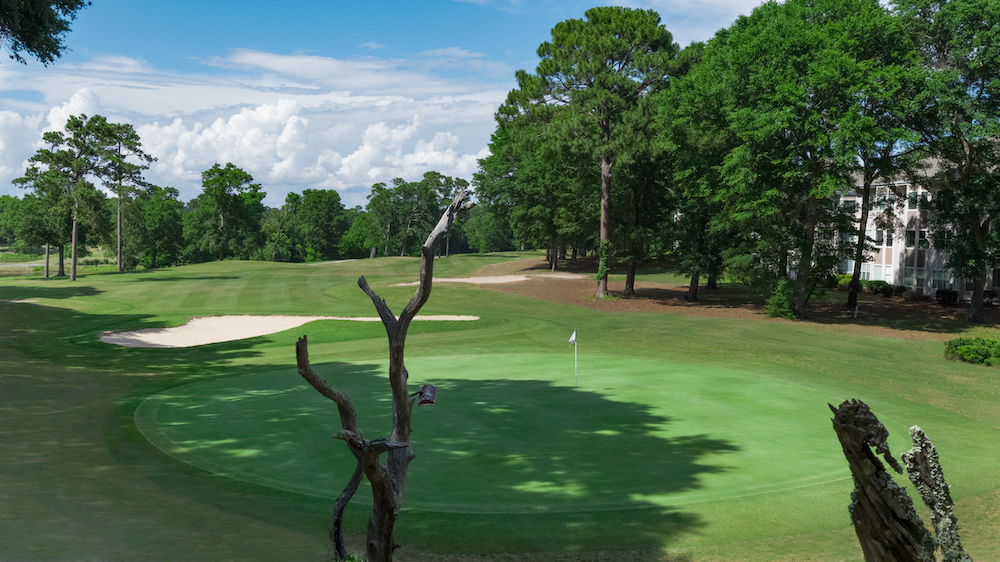 Existing involvement
Both Hill and Smith are already involved in operations and development projects at Sea Trail.
Smith, who also owns the Affordable Large Properties property management company, renovated and reopened the Village Activity Center (VAC) that includes House's Place at the Beach restaurant and catering business through a lease agreement in 2019, when he also took over a Sea Trail condo and villa rental business.
The activity center features an outdoor pool, heated indoor pool and hot tub, tiki bar, dining room with indoor and outdoor seating, a private dining room, game room with pool table and shuffleboard, and locker rooms with showers. More renovations are planned for the VAC, which has term memberships available to residents and the general public.
Hill has been building homes in Sea Trail for about a decade, and purchased all remaining undeveloped land in Sea Trail – aside from the 15 acres purchased last week – in July 2020.
Riptide has worked with the Sea Trail Master Association on a number of development, infrastructure and improvement projects.
It has remodeled the interior of the Maples Activity Center and added an elevator, beautified property entrance walls, enhanced landscaping including at the community chapel, installed ornamental street signs and posts, and invested in ongoing stormwater repairs.
Renovations to Sea Trail's largest amenity center pool and pool deck include the addition of a new 10- to 15-person in-ground spa.
According to a Sea Trail Investments press release in March, Riptide developments within Sea Trail include:
• Byrd Watch, a 49-lot single-family home subdivision that is near completion.
• The Townhomes on Eastwood Bluff, an 88-unit townhome and amenity project that is more than halfway complete
• Sawmill Townhomes, a 27-unit townhome project that will soon commence
• Gulls Landing, a 93-site single-family home project that will soon commence
• Pelican Reserve, a single-family home project in the final stages of engineering and permitting that will include a large clubhouse, pool, pickleball courts, large dog park with agility and training facilities, community dock and nature overlook, and green space areas featuring gazebos and terraces. Pelican Reserve will give residents a new entry to Sea Trail from Angels Trace Road.
"Residents are excited about change and upgrades, and fulfilling the master plan of the community that was started back in the 1980s and '90s," Smith said.