New Terminal at the Myrtle Beach International Airport
Posted on December 7, 2012
Filed under Articles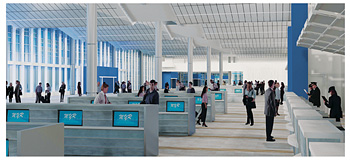 With its iconic profile, the new Myrtle Beach Airport terminal will be as passenger friendly as it is beautiful. "One of our goals was when people arrive on an airplane, we want them to know they're in Myrtle Beach. We want to create an experience for them and for the folks who come and go. We want them to feel like this is their airport and we want them to be proud of it," Myrtle Beach International Airport Spokesman Kirk Lovell said.
The Dr. W.L. Harrelson Terminal Building is named for the first mayor of Myrtle Beach. The city purchased land for the municipal airport during his first term in the 1930's, and the terminal at the airport was named in his honor.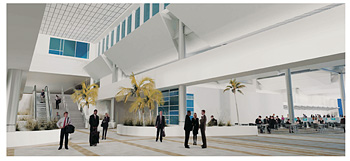 Currently, construction crews are at work on a new food court, new security checkpoint, new lobby, four new baggage claims carousels, and a suspended walkway. The new baggage system will be fully automated, whereas the old system was almost entirely manual. With the new system, a bag can be processed (start to finish) in under three minutes allowing passengers to receive bags at the carousel much quicker than before. There will also be an easy to access stand-alone car rental center.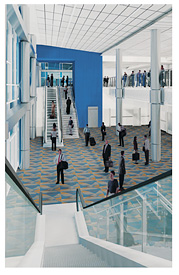 With ample room for future growth, Myrtle Beach International Airport covers an area of 3,795 acres- by comparison, JFK Airport in New York City is built on 4,930 acres.
The total footprint of the airport terminal will increase from 155,000 square feet to 430,000 square feet. M.B. Kahn, the expansion construction contractor, was named the Top Contractor in South Carolina by Engineering News-Record for 2012. "It is terribly congested in there. We don't have enough room to park the airliners that would like to be in here. And so the new terminal will eliminate a lot of the congestion," said Rick Ott of M.B. Kahn Construction.
M.B. Kahn operates throughout the southeast and is celebrating its 85th year in the construction business. The firm is one of the largest supporters of education and community partnerships in the southeast.