A new gentlemen's club has opened in Myrtle Beach, and it brings a different experience to the market.
Lust Gentlemen's Club aims to provide not only top-notch entertainment, but also top-notch cuisine that will be available from open to close.
Lust is at the Seaboard Street location of the former Derriere's Gentlemen's Club, which was the area's only all-nude club and did not have a liquor license.
Lust is topless and has a full bar and is open daily from 11 a.m. until 4 a.m., or later each day depending on business.
The menu is already extensive and is still adding items as operations refine. When complete, it is expected to feature char-grilled steaks including a 72-ounce tomahawk, crab legs, lobster tails, house-smoked BBQ ribs, prime rib, elk, buffalo, alligator, locally-sourced fresh seafood, brick oven pizzas, appetizers, desserts, and craft cocktails.
The club also features unique alcohol vape balloons.
There will be an all-you-can-eat happy hour special entree of the day from 5-9 p.m., and ribeye steaks are planned for Thursday nights.
"Why should a customer have to go and wait to be seated somewhere else when they can come here and it's a one-stop shop," manager Brent Jackson said. "We do it all. That's always been the idea. This is what we do elsewhere as well."
Jackson said all of the seafood and steak entrees are fresh and never frozen, and "a lot of our proteins are smoked," he said.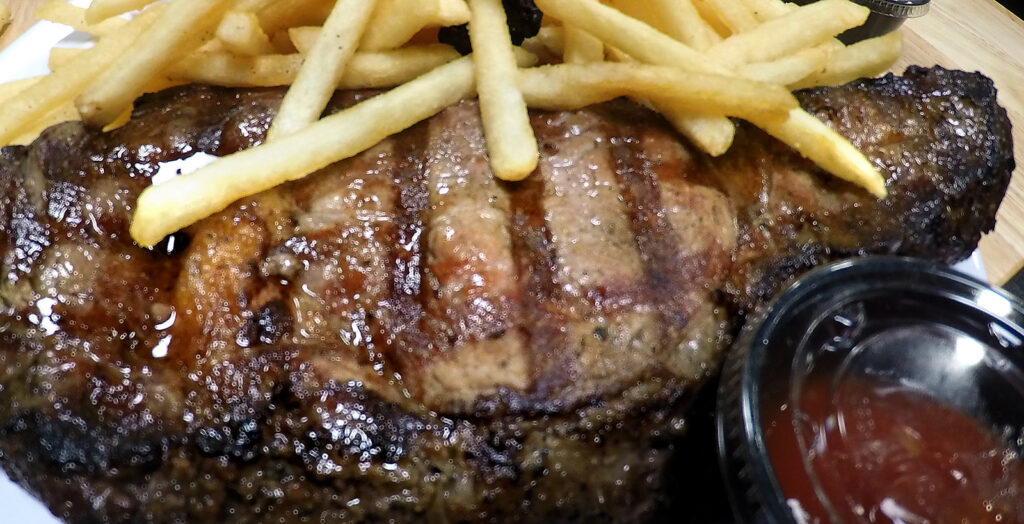 Jackson is a general contractor so his company handled the building renovations, and it was an extensive renovation to the point of a reinvention. "There's nothing that we haven't altered," Jackson said. "It's a complete new buildout: bathroom facilities, kitchen, private rooms, pretty much everything."
He and his wife, owner Lynn Perkins, have been nightclub operators, restaurateurs and gaming operators for three decades. They have operated about 30 businesses along the East Coast, primarily in Maryland, Virginia and West Virginia.

Perkins is from Charleston so operating a club in Myrtle Beach brings her closer to family.
A second Lust exists in Martinsburg, W.Va., and Jackson said more Lust clubs are coming to the Carolinas and possibly surrounding states.
"We're going to be in other markets very close to here very soon," he said.
There are 16 bottle-service VIP couches along the outside walls of the main showroom – the couches were imported from Bulgaria, Jackson said – and 25 private rooms including shower shows and hot tub experiences that come complete with Lust swimsuits for customers.
The interior is non-smoking but there is an outside smoking deck and outside seats and tables for dining and lounging.
Jackson has a company that makes the chairs throughout the club, which features a sound and light system that cost several thousand dollars, Jackson said.
The club has a pair of sky cages that rise and drop with hydraulics in addition to the main stage.
"It's discotheque meets ultra gentlemen's club," Jackson said.
Jackson said there are more than 80 cameras in the building for the protection of both the entertainers and customers.
With the opening of Lust, the Grand Strand now has five gentlemen's clubs including the Masters Club and Treasure Club in Myrtle Beach, and TheeDollHouse and Pearlz Cabaret in Atlantic Beach.
The market once had a high of at least 17 gentlemen's clubs in the 1990s and early 2000s.