Robert Mieczkowski Wins Golf.com World Am Final in Myrtle Beach
Posted on September 5, 2012
Filed under Articles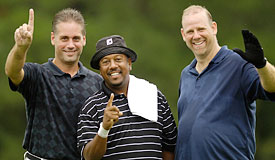 Robert Mieczkowski of Laurance Harbor, N.J., shot a gross 76, good for a net 65, at TPC Myrtle Beach during Friday's World Championship playoff to win the 29th annual Golf.com World Amateur Handicap Championship. Mieczkowski bested a field of 74 other flight winners
Major League Baseball legend Roger Clemens, who won his flight, shot a gross 79, good for a net 71 and a share of ninth place.
"I think it's good competitive golf," Clemens said of the tournament after his round. "With everyone's handicap in play, it makes if fair for everybody. What did we have, close to 3,100 participants? A great turnout."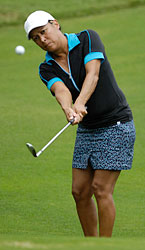 An 11-handicap, Mieczkowski, won Flight 5 to advance to the World Championship playoff.
Frank Payne of Aynor, S.C., shot a gross 78, net 66 to finish second.
After battling rain early in the week, the scene at TPC was idyllic with sunny skies. The course, which hosted the 2000 Senior Tour Championship, is the Myrtle Beach area's only 5-star layout and has hosted the World Championship Playoff three years in a row
Vernon Denham and Jerry Edwards of Louisville, Ky., shot a team total of 147 to win the International Pairs event and along with a trip to Europe next year.
The World Championship Playoff is the annual culmination of the Golf.com World Am, a 72-hole net, stroke play event. This year, 3,100 players from 49 states and 25 countries competed in the GOLF.com World Amateur Handicap Championship.
Hosted by Myrtle Beach Golf Holiday, the GOLF.com World Amateur Handicap Championship is a 72-hole, net stroke play tournament. Players are arranged into flights according to their handicap and at the conclusion of the four rounds, all flight winners advanced to the 18-hole world championship playoff.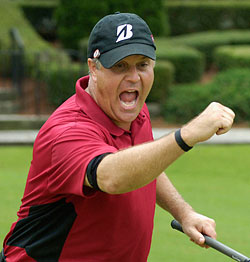 The World Am features five competitive divisions, ranging from men and women 49 years-of-age and under to the super seniors 70 years-of-age and older. Players with handicaps as low as three and as high as 34 have won the GOLF.com World Amateur Handicap Championship.
The World Am web site www.worldamgolf.com offers a daily glimpse at the World Am with updated standings, news releases and photographs from the 29th annual tournament. For more information on the 2012 GOLF.com World Amateur Handicap Championship, visit WorldAmGolf.com.
The 30th annual GOLF.com World Amateur Handicap Championship will be held August 26 – August 20, 2013.