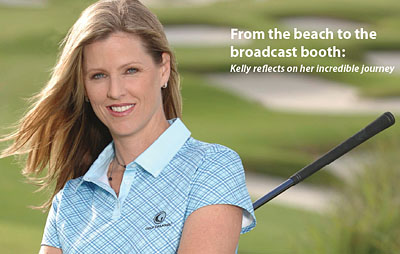 The Myrtle Beach area has no shortage of home grown residents who have made a splash in the world of television: If you've ever watched Wheel of Fortune on TV, you have seen Vanna White reveal the puzzle's letters; on Entertainment Tonight you can't mistake Nancy O'Dell chatting with Hollywood's A-list celebrities and on the Golf Channel, Kelly Tilghman provides play-by-play for golf's most prestigious events. All three of these ladies were born and raised right here along the Grand Strand back before developments like Broadway at the Beach were built and beachwear stores boarded up their windows for the off-season. What was it about this area that produced such lovely and talented women who have achieved so much national recognition?
On The Green Magazine had the opportunity to chat with Kelly Tilghman recently and we asked her about her golfing and broadcasting career as well as growing up in North Myrtle Beach.
As a child, Kelly had four brothers and was drawn to sports, playing a myriad of them including soccer, tee-ball, golf, tennis, even Pop Warner football. When she was about 10, after a few years on the football team, her father pulled her aside and explained that the boys are getting much bigger than her and perhaps it was time to choose something else. She began to focus on two sports: basketball and golf. Her parents, Phil and Katherine Tilghman built and operated the now closed Gator Hole golf course in North Myrtle Beach and Kelly worked at the course. She learned about the business while she sold range balls, parked carts, drove a tractor, cashiered at the snack bar and worked in the pro shop.
Growing up, Kelly and her her family lived in a house off of the 3rd fairway at the Surf Club and she played many a round at the club. During high school, she also played matches at the Dunes Golf and Beach Club and began honing her game to a high level. At the same time, Kelly played varsity basketball in high school as a 5'9″ point guard (the first 8th grader to make the team). She was one of the shortest players on the North Myrtle Beach team- some girls were 6′ tall or more. The varsity were good too; her team would win the state AA championship during Kelly's junior year.
In high school she was the only girl on the school's golf team. She was good enough to earn a golf scholarship to Duke University where she won a tournament in college, the prestigious Lady Paladin Invitational hosted by women's golf powerhouse Furman University.
After graduating from Duke with a B.A. in political science and history, Tilghman pursued a career as a touring golf professional. She played in Europe, Australia and Asia from 1992-96.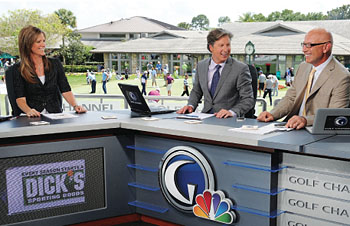 On The Green Magazine: Your family's history is deeply rooted in golf- can you talk a little about that?
Kelly Tilghman: My grandfather, Melvin Hemphill, and his sister Kathryn Hemphill, were both in the South Carolina Hall of Fame as golfers. He was a 47-year teaching professional in Columbia and he was Jack Fleck's teacher when Fleck beat Ben Hogan at Olympic Club [at the 1955 U.S. Open]. My great aunt Kathryn was on the Curtis Cup team with Patty Berg and she was a contemporary of the ladies who founded the LPGA. She also won professional golf tournaments as an amateur. Between my mom and my dad, who had the business connections to golf, it was all around me. It was all I could do to be a golfer. Golf is in my blood, it's who I am.
On The Green Magazine: Can you tell us about your transition from collegiate golf to becoming a professional?
Kelly Tilghman: You know, I was probably a better junior player than collegiate or professional- compared to the skill level versus the other players at the time. I seemed to be ahead of my competition when I was young. I played my first big tour event in December of 1994. It was the Australian Open in Adelaide and in the first round, I shot way over par. I had a European tour playing card, but I felt like I had no business being on the same stage as those players.
On The Green Magazine: As a native South Carolinian, you don't seem to have a detectable 'southern accent' on television. What happened?
Kelly Tilghman: That's funny and reminds me of a story. In 1999, when I first began working for NBC, a producer told me that I was doing a great job on camera- but that I should try to tone down my accent down a bit. I was amazed, since I didn't think I had any accent at all! People tell me that when I get around family or maybe have a glass of wine, sometimes a hint of an accent comes out.
On The Green Magazine: So, how much golf do you play these days?
Kelly Tilghman: Actually, I only play golf 6-7 times per year now—usually in charity events. Golf was hard work back then, now it's fun. I am much more into running, fitness activities and water sports lately. I have really come to like surfing, wake surfing, and sprint triathlons.
On The Green Magazine: What is a sprint triathlon?
Kelly Tilghman: It's a short-distance triathlon, ideal for competitors like me, who are new to the sport.
On The Green Magazine: Who has been the most interesting person you have played golf with over the years?
Kelly Tilghman: That's a great question. I have played with a number of incredible tour pros, but something that stands out in my mind was hitting balls on the range with Tiger Woods. He was doing an exhibition and I was there as an announcer. During the event, he asked me to go ahead and hit a few balls. Man, was I nervous! But, somehow I did okay.
On The Green Magazine: I understand that you caddied for Arnold Palmer at Augusta?
Kelly Tilghman: You know, that was probably the highlight of my career so far. Back in 2008, for the annual par 3 tournament, Arnold asked if I would caddy for him. Who were the other players in his group that Wednesday? Oh, just Jack Nicklaus and Gary Player! Arnold was having rough go of it, though, so Jack told me to hit one for Arnie on the 9th hole after he had hit his 8 iron onto the water. Decked out in the white caddie coveralls, in front of thousands of fans as well as Arnie, Jack and Gary, I was the most nervous I've ever been standing on the tee. Without taking any practice swing or loosening up, I swung quickly using Arnie's iron and just barely avoided hitting it into the water. At least it was dry.
On The Green Magazine: Any other thoughts about the changes to the Grand Strand? Any favorite places here?
Kelly Tilghman: I still can't get used to the property where Gator Hole used to be in North Myrtle. It's now a Home Depot parking lot, which breaks my heart. It was a staple of my childhood. One of my favorite places to eat is Greg Norman's Australian Grille. It's a very peaceful setting with a fantastic view of the Intracoastal Waterway. They have a great wine list. I'd definitely try their cab/merlot blend. Plus all the art work in the restaurant was all hand-picked by Greg Norman.
On The Green Magazine: Will we see you more often here at the beach?
Kelly Tilghman: I have been talking to people about something related to junior golf that could involve programs in South Carolina and the Myrtle Beach area — stay tuned for more about this in the coming months.
---
A member of Golf Channel's original cast and one of the network's most versatile anchors, Kelly Tilghman serves as play-by-play host for the network's PGA Tour coverage. She also co-anchors the network's signature news program, "Golf Central," as well as "Live From" telecasts from golf's major events. Over the course of her Golf Channel career, she has hosted numerous shows and specials and has served as an on-course reporter for the network's live tournaments team. In 2007, she became the first full-time female play-by-play commentator in the history of the PGA Tour when Golf Channel embarked on its 15-year contract as the tour's exclusive cable home.