Myrtle Beach International Airport Expands
Posted on December 4, 2012
Filed under Articles

What's the best way to travel to the fabulous Grand Strand of South Carolina? By airplane – into the newly renovated Myrtle Beach International Airport, a modern and convenient gateway to all that the Myrtle Beach area has to offer. The popular online travel review site Trip Advisor recently ranked Myrtle Beach as the #1 Best Beach in the United States as well as one of the Top 10 best in the world.
With a $118 million expansion project that began in 2010, the airport is poised to take the region to the next level in accessibility and service. The new world-class addition features 275,000 square feet and six new gates, giving the facility a total of thirteen gates. The upgrade also includes a new baggage screening system and additional parking. With plenty of elbow room, the goal of reaching a million passengers passing through the airport in one year is more achievable than ever before.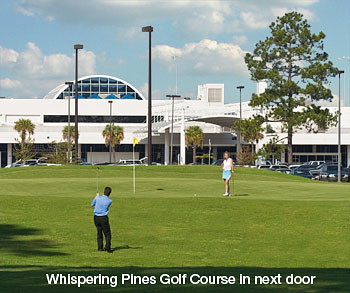 "The terminal expansion at Myrtle Beach International Airport gives us a new front door for visitors who fly in to see us," explained Myrtle Beach mayor John Rhodes. "We are very pleased with the location and the progress, and the county is doing a good job managing the construction. The extension of Harrelson Boulevard means you can easily get to the airport from all directions. Plus, the city's Whispering Pines Golf Course is across the street, which makes for a very attractive entryway into Myrtle Beach."
Throughout the year, direct flights are available from major U.S. cities such as Atlanta, New York, Boston, Philadelphia, Dallas, Chicago and Washington, D.C. With the expansion, there is ample room for more airlines to service the beach and the opportunity for additional direct flights to cities across the country. The airport broke its record for most incoming passengers in 2010 when more than 800,000 passengers travelled through the facility.
Visitors have long known that flying into the Grand Strand was a great way to get in more time at the beach or on the fairways. The current airport and terminal opened in 1976, sharing its runway with the now closed Myrtle Beach Air Force Base. Twenty years later, MYR (the official FAA designation for the airport) became an international airport boasting a runway that is more than 9,000 feet long, big enough to have been chosen as an emergency abort landing site for the space shuttle.